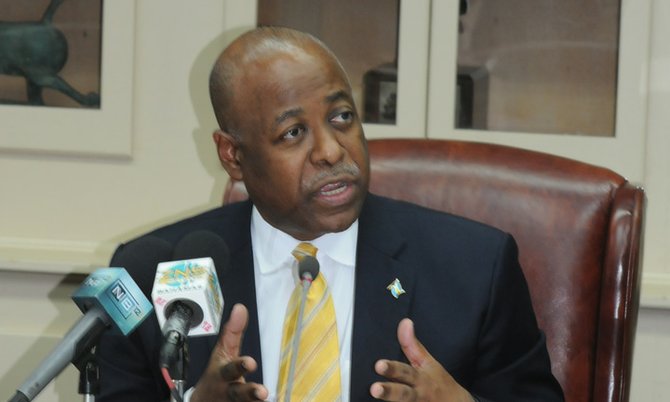 By RASHAD ROLLE
Tribune Staff Reporter
rrolle@tribunemedia.net
WEBSHOPS that are not granted licences to operate will have seven days to shut down once notices of closure are released, Tourism Minister Obie Wilchcombe announced yesterday.
His statement came during a House of Assembly session as he hailed the "imminent" enactment of legislation associated with the new gaming regime.  
With the Gaming Act coming into force on Monday, Mr Wilchcombe struck a firm tone, detailing the steps webshop operators must take to remain viable in their bids to receive licences.
He stressed that webshops that intend to remain open during the transitional period must pay their tax arrears for the period July 1 to November 24, 2014, no later than December 1.
"Any failure by a webshop proprietor to pay these (back) taxes timely and in full will be grounds for the disqualification of such business for licensing, as well as the disqualification of the owner thereof from participating in a licence bid," he said.
"Therefore even those webshop owners who may not yet have made a final decision as to whether they intend to continue their operations during the transitional period are advised to make payment of the arrear taxes, in order to avoid later disqualification for licensing as gaming house operators. Webshop operators are urged to make contact with the secretary of the Gaming Board if they have any queries in this regard."
Mr Wilchcombe added that webshop owners are required to make "full and frank disclosure of revenues generated by their past business operations" by December 1.
Failure to do this will result in them being disqualified from obtaining gaming house operator licences, he said.
He added that operators have until December 8 to lodge sworn affidavits with the secretary of the Gaming Board in which they disclose whether they wish to operate their businesses during the transitional period.
On December 17, the Gaming Board is expected to publish a notice about its intention to issue a request for proposal (RFP) for licences, he said.
"Only companies which are held 100 per cent by Bahamian citizens who ordinarily reside in the Bahamas will qualify for licensing as a gaming house operator," he said, adding that the closing date for purchasing an RFP will be January 9, 2015.
The closing date for submitting applications for gaming house operator and gaming house premises licences will be February 20, 2015.
"The Gaming Board will conduct detailed probity investigations into the various applicants with a view to determine whether they qualify for licensing and have submitted applications which meet or exceed the requirements of the legislation and the RFP," said Mr Wilchcombe.
He added that "if all goes well" the process will be concluded by May next year.
"Once the final decision has been taken regarding which of the applications have been successful," he said, "notices of closure will be served on those businesses in respect of which licences have not been granted. These businesses will then be required to close their doors within seven days of the date of service of the notice of closure."