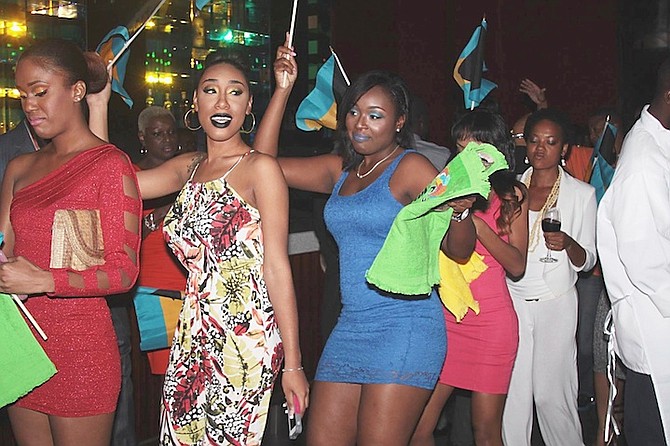 DURING the month of July, the Bahamas National Festival Commission (BNFC) invited musicians from throughout country to enter their Junkanoo Carnival Song Competition. As a result, over 170 songs were submitted by established and aspiring Bahamian artists who produced new Bahamian music.
After the independent judging process concluded, the top 25 songs emerged.
The the official compilation CD was released last week at Club Aura, Atlantis.
Simultaneously, the BNFC has also launched the e-commerce site for the Bahamas Junkanoo Carnival, bahamasjunkanoocarnival.com. This will provide updates on the carnival events scheduled for 2015 while allowing national and global citizens to purchase costumes online for the highly anticipated Road Fever Parade. The first costume was purchased by Prime Minister Perry Christie, who encouraged the BNFC team to continue the work that is being done to make the Bahamas Junkanoo Carnival successful and an experience that the world will enjoy.
Ed Fields, co-chairman of the BNFC events committee said: "We are excited to have a quality compilation CD that can promote the songs and artists on a global scale. Our goal is to promote Bahamian music, to get more Bahamian music on the world stage and to encourage Bahamians to write more Bahamian music."
According to BNFC CEO Roscoe Dames, "Music is the spirit that drives the cultural experience of the Bahamas Junkanoo Carnival. Therefore, it was essential to find talented Bahamians who were able to capture the vibrant energy and legacy of our traditional music. This album will set a precedent for many to come and will allow our culture and talent to be exposed globally."
Fred Munnings, co-chair of the BNFC events committee, said: "The drumbeat, (goatskin drum) is the heartbeat of our Bahamian music. Our music, like most of the music in the Caribbean, combines the rhythms of Africa and the melodies of Europe, as defined by Rex Nettleford."
"On behalf of the Commission, the music of the Bahamas Junkanoo Carnival will drive the festival as we invite the world to come and experience the uniqueness of our indigenous cultures. As mandated by the government of the Bahamas, this Bahamas Junkanoo Festival will be the impetus to jump-start our entertainment industry once again as in the glory years of the '40s, '50s and '60s.
The top 25 songs on the compilation CD are:
"Going Home", Ian Alleyne-McQuay

"Junkanoo Rock", Tyrone "Plati Dread' Barlett

"Better in the Bahamas", Raymond Campbell

"Rushin Down the Road", Christopher 'Sketch' Carey

"Wine Like a Champion", Christopher 'Sketch' Carey

George Christopher Fox, "Happy Birthday Bahamas"

Bodine Johnson, "All Day All Night"

"Jump & Carry On", Colyn McDonald

"Carnival is here", Colyn McDonald

"Carnival is my Junkanoo", Sonovia Pierre

"Bahamas Carnival", Sonovia Pierre

"Carnival Party" Sonovia Pierre

"Jump in Da Line", Sammie Starr

"Bahamas Come Together", Cambrell Poitier

"Bahamas Carnival", Valerie Richards

"Carnival is Here", Raj Saunders

"Fly Away with Me", Khiara Sherman

"Bahamaland By Da sea" Dwayne Simmons

Ericka "Lady E" Symonette, "My Islands in the Sun"

"Roll Mama", Terrelle Tynes-Wilson

"Mash up this Carnival", Terrelle Tynes-Wilson

"Bahamas Carnival", Preston Wallace

"In the Carnival" , Georgina Ward-Rigby

"We are the Night", Angelique Sabrina White

"Make Ya Feel Good", Angelique Sabrina White