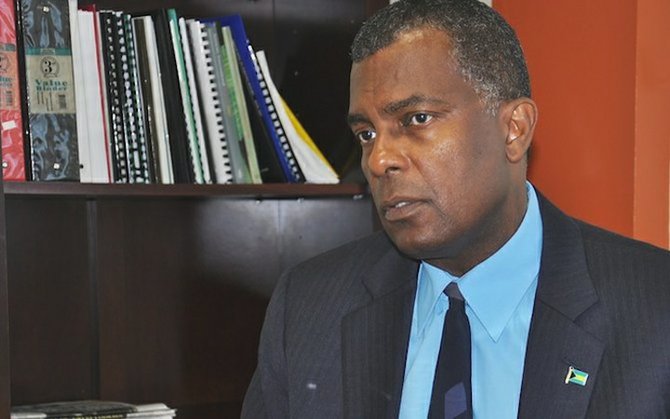 By RASHAD ROLLE
Tribune Staff Reporter
rrolle@tribunemedia.net
FOREIGN Affairs Minister Fred Mitchell yesterday said his ministry is investigating why eight of 12 immigration officers failed to report for work at the Lynden Pindling International Airport on Wednesday – their absence resulting in severe queues for many who tried to clear immigration.
The officers, who were scheduled to work, called in sick, raising concern that they might have taken industrial action.
Nonetheless, both Mr Mitchell and Labour and National Insurance Minister Shane Gibson said yesterday the incident appears not to have been union-related.
Mr Gibson said: "I have no reason at all to believe that it is union related." Mr Mitchell added: "There's no evidence of any sick-out. A sick-out is a matter of industrial action. There is an investigation underway because (Wednesday) should not have happened for all sorts of reasons. The country was embarrassed.
"The Bahamian public was embarrassed. Whether people took industrial action, that's up to them. But whatever the eventuality was, we have procedures. Whether industrial action took place or whether people were simply ill, we have the ability to deal with those issues."
Operations at the airport returned to normal yesterday.
Shonallee Johnson, communications manager of the Nassau Airport Development Company (NAD), said: "Passengers are being processed in very reasonable fashion, there have been no delays and no complaints."
Bahamas Customs Immigration and Allied Workers Union (BCIAWU) representatives have also denied that the union had anything to do with the unusual situation.
A statement from the Ministry of Public Services yesterday did not refer to the airport incident, but emphasised that Mr Gibson has made himself available for discussions with members of the Trade Union Congress (TUC), of which the BCIAWU is a part.
"In the case of the Customs and Immigration Union, it was made very clear from the outset that all issues, including financial issues, which formed the basis of contract talks would have to be incorporated as a part of the Industrial Agreement," the statement said.
"This position was agreed and accepted by the union and a subsequent meeting was held with the Customs and Immigration Union, their attorney Mr Obie Ferguson and officials of the Ministry of Public Service to conclude an Industrial Agreement for signature."
"The document was reviewed by the Minister of Labour and the parties were invited back to the table to finalise the document; however to date the Customs and Immigration Union has failed to return to the table to finalise the contract so that its members can receive the payments agreed.
"The Ministry wrote to the union inviting it to return to the table, however, the Ministry was advised that Mr Obie Ferguson, counsel to the union, was out of the country and the union was not inclined to return to the table without Mr Ferguson. Meanwhile the Minister and his officers await the return of the union to finalise the contract so that the payments can be made to those deserving and hardworking uniformed members."