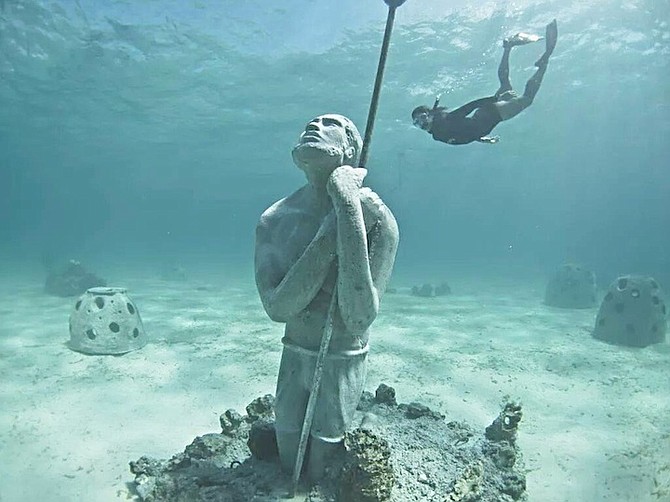 By KORTNEY RODGERS
THE western New Providence seascape is changing this week as the Bahamas' first "underwater living art gallery" takes shape in the waters off Clifton Heritage National Park. Described as "a one of a kind snorkelling and scuba diving experience for Bahamians and visitors," The Bahamas Reef Environment Education Foundation's (BREEF) Sir Nicholas Nuttall Coral Reef Sculpture Garden (CRSG) is designed to help protect and restore the coral reefs.
The brainchild of the award-winning Bahamian artist, Willicey Tynes, the sculpture garden is an integration of art, science, and conservation that will showcase Mr Tynes' work along with sculptures produced by Bahamian artist, Andret John, and internationally acclaimed sculptor, Jason DeCaires Taylor.
The collaboration also includes support from the Reef Ball Foundation, a volunteer group that seeks to "help restore our world's ocean ecosystems through the development and use of aesthetically pleasing, ecologically sound, and economically designed artificial reefs".
"The birth of this project stems from a desire to honour the work and dedication of Sir Nicholas Nuttall," Mr Tynes said. "Sir Nicholas was a pioneer for us all by helping to bring awareness of our marine environment and by being a voice to this great cause. The aesthetics of the project will make the connection between art and the role it can play in conservation."
The site just offshore at Clifton is an area protected from strong winds and a water depth suitable for the sculptures to be installed. The first phase of the project is set to be completed by this week and will accessible to the public later this year. According to BREEF's Executive Director, Casuarina McKinney-Lambert, "there will be snorkel trails for easy viewing from land and by boat. BREEF will be organising field trips to take people out to see the project".
BREEF has received seed funding for the first phase of the sculpture garden from the United Nations Global Environment Facility Small Grants Programme. The funding goal for the project is $500,000.
Mr Tynes, who formed his relationship with the late Sir Nicholas, the BREEF founder, after winning the organisation's first high school art competition in 1995, said he approached Sir Nicholas' widow, Lady Nuttall, with the concept after viewing the world's first underwater sculpture park created by Mr Taylor.
"I made contact with Jason and three years later, here we are," Mr Tynes said. Mr Tynes is the creator of one of the sculptures, "Virtuoso Man," that is being installed during the first phase of the project, along with 50 reef balls.
"The concept behind my piece 'Virtuoso Man' was that of giving attention to the role of the more insightful, wiser, older generation while paying homage to the role of Atlas, Jason's piece. I look forward to the viewer's interaction and their interpretation of the work."
As a graduate of the London Institute of Arts in 1998 with a BA Honours degree in Sculpture and Ceramics, Mr Taylor is also known as a certified diving instructor, conservationist and award winning underwater photographer.
"The sea here is absolutely incredible. It's crystal clear. You have a beautiful reef system already. I've always wanted to do some work here; so it's very exciting," the English sculptor said.
Mr Taylor, 34, whose sculptures turn into artificial coral reefs over time, referred to his sculpture, "The Bahamian Ocean Atlas," as "very ambitious" since it weighs 60 tons and is over 17 feet high. The sculpture depicts a local teenage girl holding up the sea, which is similar to Atlas (the mythological Greek figure) carrying the world on his shoulder.
"This is the first time ever in history that a sculpture of this scale has ever been deployed in the sea, so it is an immense challenge. I've made over 600 sculptures for various marine parks around the world, but I've never done anything this big or this challenging," Mr Taylor added.
Museo Subacuatico de Arte (MUSA), his most recent creation located off the coast of Cancun, Mexico, is a monumental museum with over 500 of Mr Taylor's sculptures and has been described by Forbes as "one of the world's most unique travel destinations". His first underwater park, off Grenada, in 2006 has been listed as one of the top 25 wonders of the world by National Geographic.
Mr John, the other Bahamian artist involved in the project, is an avid "junkanooer" who carves heads for various Junkanoo groups. His sculpture of Lucayan faces measures up to seven feet and honours the archipelago's first known inhabitants.
"Junkanoo is such a genius art form that it's almost a launching pad or a training ground for this," Mr John, 41 a former Queen's College student, said. "The difference is that it's just a different material. With this project, we're creating sculptures that just sit there, but with Junkanoo, you're creating a piece that has to be carried, so engineering is a big part of that. With this, you have to understand weight ratio and how that affects movement. I think Junkanooers would do well doing this because it's really just a training ground."
Born in Nassau Mr John grew up on Eleuthera and is a noted head carver for the Fancy Dancers, One love, Roots and One Family Junkanoo groups.
The artists were working at the Airport Industrial Park last week, moulding the reinforced concrete sculptures and treating them with special additives to promote the growth of marine life before transporting them to Clifton for assembly in the water. Mr Taylor's sculpture in particular had to be placed in parts given its weight, base first with the head following.
For the past two decades, BREEF has been devoted to conserving the marine environment, preserving the coral reef ecosystem, and educating Bahamians about the importance of protecting the country's marine resources. The organisation plans to use the CRSG to address threats to local coral reefs and to raise awareness regarding the importance of coral reef conservation to the country's economy.
BREEF claims the garden, a "fusion of art, education and marine conservation", will provide habitats for fish, corals and other marine organisms, divert snorkellers and divers away from natural reefs and allow for natural rejuvenation, provide an exceptional outdoor classroom for environmental education and a public study site for participation in scientific research.