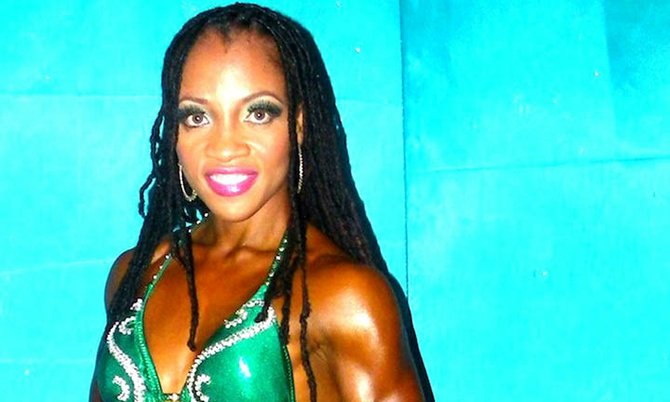 By BRENT STUBBS
Senior Sports Reporter
bstubbs@tribunemedia.net
IT WAS third time lucky for Dawn Charlton as she became the latest Bahamian to earn her professional bodybuilding card by winning the overall women's fitness title at the Central American and Caribbean (CAC) Bodybuilding and Fitness Championships over the weekend in St Maarten.
While Charlton led the 22-member team with her gold and pro card, the Bahamas finished second behind Barbados and ahead of the Dominican Republic.
The Bahamas accumulated 14 medals, including Charlton's gold, silver from Lorraine LaFleur in the women's physique and Joey Rolle in the men's bodybuilding middleweight and bronze from Tania Pierre in the women's bikini, Jimmy Norius in the men's bodybuilding lightweight and Marco Wilkinson in the men's fitness.
The other medals came from sixth place finishes - Amy Sands in the bikini short class; Grand Bahamian Tammy Stubbs in body fitness; Lakeisha Miller in the body fitness tall class; Desmond Bain in the middleweight and Bernard Davis in the men's super heavyweight.
Rounding out the Bahamian team were Naomi Fatale, Anna Vywilk, Michelle Miller, Dawnita Fry, Charnice Bain, Charles Reckley, Teran Rolle, Kenny Mackey and Ethan Quant.
Charlton, a legal assistant at Graham Thompson & Co, joins an elite field that include Charles Kemp, Joel Stubbs, Natasha Brown, Gina Mackey, James Darling and Dominique Wilkinson, who have all earned their pro cards as a result of winning their respective titles at the CAC championships.
For Charlton, this was her third trip to the regional championships and now she is basking in her success.
"I felt very good about it. I was a little concerned about it when I started because my free posing wasn't working out," she said.
"I showed it to the vice president of the federation and he told me that I needed to change it.
"So at the ninth hour, I was doing another routine, trying to get that prepared for the show. But everything fell into place."
On stage after the performance, Charlton said she was even more elated about the final decision.
"It was totally unexpected," she proclaimed.
"I was on stage counting the girls off.
"When they said sixth place going to XYZ, I was like 'that's not me.' Sixth place went to someone else. So I'm still here. Then they went to fifth, fourth, third and second and I went 'oh my God, that's me'.
"When they called my name, I was ready to burst into tears. But I had to suck it up because they were taking pictures. But it was really a rewarding experience."
Now that reality has settled in, Charlton said she will take the next two weeks off to recuperate before she sits down with her coach, Joel Stubbs, to decide her future in the sport.
"The first thing I need to do is get some RR (rest and relaxation) because it was rough getting ready for the championship," she reflected.
"It's been really rough putting your body through all of that training and dieting and working as well.
"But the first plan is to take two weeks off and then get back with my coach and then we will prepare and see exactly what we will do next.
"This is a totally different ball game, so you have to have a plan. You have to step up your game in training because you're going up against the best of the best."
Bahamas Bodybuilding and Fitness Federation president Danny Sumner, who was also elevated to another prestigious position, said he was elated for Charlton.
"She had an outstanding routine. She had one of the best figures out there," Sumner said.
"She had a lot of call outs and because of the call outs, she won it hands down."
Sumner said the team performed exceptionally, despite having to wait until the last minute before they finally got sufficient funds to carry the entire team.
"The team performed very well," he said.
"We went against a couple of teams that were bigger than we were and we beat them out.
"We were concerned because we needed some funding to send the team off, but I want to thank the Ministry of Youth, Sports and Culture, who came through and
provided the funding for
us."
Sumner said the competition was extremely tough.
He noted that the pre-judging took seven hours alone.
One of the interesting aspects of the championship, according to Sumner, was the fact that the parade of athletes was staged downtown in St Maartin, which turned out to be a great sight for the spectators.
The next CAC will be held in Guatemala in 2015.