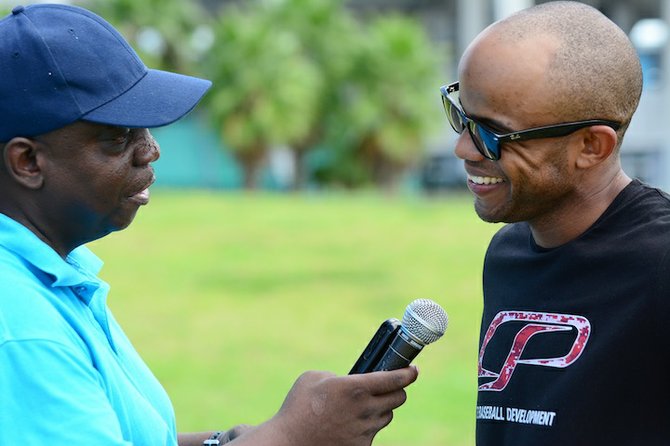 By BRENT STUBBS
Senior Sports Reporter
bstubbs@tribunemedia.net
AS THE sixth Bahamian to play in the Major League, Antoan Richardson has had an impact on the local sporting community. He joined the elite field that includes Ed Armbrister, Wilfred 'Suggy' Culmer, Tony Curry, Wenty Ford and Andre Rodgers.
This is his second stint in the majors, having played with the Atlanta Braves in 2011 and this month with the New York Yankees.
He is home, celebrating his 31st birthday yesterday, and gave an extensive interview to The Tribune over the weekend. Here, in the second and final part of the interview, he talks about his path to the Major Leagues and his future professional and personal life.
The Tribune: Who is Antoan Richardson?
Richardson: I'm a scrappy little guy who work hard and do whatever it takes to succeed. If I had to describe me, that's how I would put it because there's nothing pretty about me. But at the end of the day, it's all about getting the job done. I've worked hard for a long time to get to this point. But at the same time, I had a lot of people who sacrificed to get me to this point and a lot of people who supported me to get to this point.
So I'm just a hard working guy trying to get the best out of myself.
The Tribune: When you look back at your career, would you have envisioned getting two opportunities to play in the Majors when there are so many players who haven't had one?
Richardson: I envisioned having just one long stint to tell you the truth. But I think the dream has always been to be in the Major League. Every year, I go out to play, I expect to play in the Major League.
I don't ever go there with the mentality that if I sign a minor league contract that I would stay there. If I at one point believed that I didn't have the ability to perform in the Major League, then that's a sign that I probably need to stop playing and try to help some other people get to the Major League.
So I envision every single year that I go out there that I would end up playing in the Major League.
The Tribune: What does it take to be a player in the Major League?
Richardson: It's a lot of dedication. A lot of those guys who are up there are there for a reason. They put a lot of time and a lot of work in what they do. Some people get there a lot quicker than others and others take a very long time. But at the end of the day, I think it comes down to the fact that there is something about them, something inside of them that make them so very unique.
At the end of September, the maximum of players in the Major League is about 1,200, so that's a special group to be a part of and I think you need to have that drive and perserverance in terms of playing baseball to get to that point. You fail a lot and there is a lot of trials, but you have to give youself a chance to get to that level.
The Tribune: There are a lot of players who are in the pipeline waiting to follow in your footsteps and there are countless others who are trying to follow in their footsteps. What words of advice do you have for all those players who are looking up to you?
Richardson: It's pretty simple because all of the guys you are talking about in the minor league definitely are way more talented than I am, so it's just a matter of doing the right things on and off the field and realising that you will have to put in the work to get to where you want to go.
Nothing will be given to you, so you just have to stick with it and trust what you do. Don't worry about what other people have to say about you and you will attain your goal. But you have to put in the work. You got to have a different type of gut than everyone else."
The Tribune: Coming from the Bahamas, where we have a beautiful national stadium, but there's none right now for baseball. Does it bother you as you try and encourage more scouts, especially from New York, to look at the talent that is available in the Bahamas?
Richardson: Bother isn't the word because I'm never one to complain. At the end of the day, you just have to make the use of what you have.
I don't have the ability to build a field, then I can't build a field. I have two fields at JBLN and Freedom Farm that I can use, I spend a lot of time at Freedom Farm when I'm here, but I have other resources like the beach.
So I have to try and get creative.
Would I love to see a baseball stadium here? Obviously yes. It would give us a lot more opportunities, I think there is one on the way, so I'm excited about the possibility of having a national stadium here in a year or two. So that is pretty exciting.
The Tribune: When we look back at the success we have had in track and field, as a former 400 metre runner, if you had to do it all over again, would you have stayed in track and field or would you have still considered playing baseball?
Richardson: I am happy with my choices. It's so tough that you can't second guess yourself. I had some successes in track and field, but I love the fact that it was so tough in baseball. I thrive on that. The fact that I had to work so hard to get this little bit of time, I would do it all over again because it has taught me a lot of life lessons that will help me after my baseball career is done.
I wouldn't change it. But do I miss track and field? Do I miss that feeling? Definitely. Do I miss the football field? Definitely. But I love every second on the baseball field.
The Tribune: How did you get involved in baseball?
Richardson: We grew up playing softball and when I was in St Anne's, one of my friends, Brian Armbrister, invited me to come out to Freedom Farm. It took me a couple of weeks to get out there, but I finally made it. And for me, it was more of a social gathering, hanging out with friends and stuff like that. But I got an interest in the sport. I definitely wasn't good at the time and evidence was I got cut from my softball team at St. Anne's as a seventh grader.
But I kind of continued to play and let my ability help me out throughout the way. I got an opportunity at the age of 14 to leave the Bahamas for high school in America. I actually stopped playing the game at the age of 15 to run for Carifta. Then at the age of 16, I started playing every single day and I finally got a love for the game. Since that, I've been at it and Angelo Burrows, another former minor league player, was drafted by the Atlanta Braves and he sort of inspired me to go this route. That's basically how I got started with this drive to be a professional baseball player.
The Tribune: Do you stay in touch with Angelo Burrows?
Richardson: Yeah, we text each other just about every day. He is always congratulating me and saying stuff to remind me to stay hungry for the game. He's always encouraging me throughout the year. He and others are always encouraging me. You never really see their support, but it really does help. He might just text and say 'keep at it' and it's that sort of encouragement that help to keep me going.
The Tribune: Who are some of the people who have helped you to get to this point?
Richardson: It's a long, long list, but I wish to firstly thank God and then I have to thank Senator Greg Burrows from Freedom Farm for teaching me the game and for so many opportunities to travel. I also have some close friends like Geron Sands, Greg Burrows Jr and Albert Cartwright for flipping me balls and hitting with me when they should have been with their significant others.
My whole family, immediate and extended, the list goes on. If I start calling names, I would probably miss some people, but at the end of the day, I want to thank everybody. I want to thank the Bahamian people who have supported me. No matter what.
Whether they knew about it before or afterwards, they had my back and they are excited about this opportunity.
The Tribune: I know it's personal, but people want to know. What's happening with your love life?
Richardson: To be honest, I was thinking about it the other day. Our lives are so public on the field that we can't keep anything away from anybody. I think that's why as athletes our private lives become so private because that is all that we can hold onto for ourselves.
So I will say this. I see marriage in the horizon. That's my best answer for you right there.
The Tribune: How are you going to enjoy this time away from the game now?
Richardson: I will spend a lot of time on the beach.
I'm going to try and enjoy this island as much as I can with all of its beauty and all that it has to offer.
My goal is to go island hopping.
I want to experience those islands' life as well.
And then a couple of my buddies will be coming down from the Yankees, so I want to show them a good time for the next couple of weeks. Then it's game time.
It's not a lot of time to relax.
I have some time to let my body heal up and enjoy the country, my family and friends, but then it's going back to work.
The Tribune: Are you looking at the possibility of having the Yankees come down to put on a training camp here?
Richardson: Actually, I would love to see Major League as a whole come here and do some things here. But as soon as we get a stadium here, things will happen easily.
They want to do some things like that. But with a little bit of networking, I don't think that should be a problem.
We just need to have things in place to make that move. As soon as we have everything in place, it should only take a phone call to get them here.
The Tribune: Finally, what was it like playing in the Bronx as opposed to playing in Atlanta?
Richardson: I guess it's the expectation.
Every single night you have about 50 reporters in the locker room, so the expectation to succeed is much higher in New York than it was in Atlanta.
But of course that comes with the territory playing with a high profile player like Derek Jeter.
It couldn't get any better than that in the Bronx.