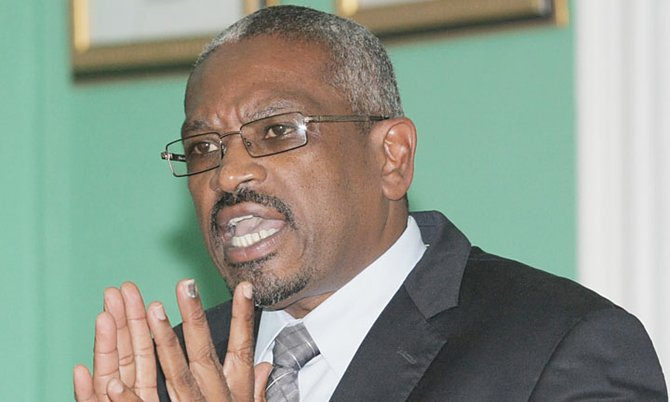 By SANCHESKA BROWN
Tribune Staff Reporter
sbrown@tribunemedia.net
FNM Leader Dr Hubert Minnis said the party's planned November 21 convention has to be ratified by the FNM's council adding that he has "no idea" how the information on the event was leaked prematurely.
He said as of yesterday "nothing has been confirmed."
Speaking with The Tribune, Dr Minnis said Free National Movement executives met on Wednesday to discuss the party's convention and other internal matters, but the information was supposed to stay confidential until he had a chance to further discuss it with the council in another meeting tonight.
"We had an executive meeting and I have no idea how that leaked out," Dr Minnis said.
"I told everyone nothing is to be discussed because it still has to go to council. Nothing has been confirmed until that goes to a council meeting. So a date was discussed but nothing was decided or confirmed."
According to reports, party executives were informed of Tuesday's meeting at noon that day. FNM Chairman Darron Cash, who was at another engagement, and Deputy Leader Loretta Butler-Turner, who was in Long Island, were not at the meeting.
Mr Cash released a statement on the pair's absence, which said that people are trying to stir up controversy about his absence from the executive committee meeting "where none exists."
"I had a previously scheduled commitment to attend and speak at a constituency association meeting that evening," Mr Cash said.
"The meeting was planned in advance of the emergency executive meeting and my attendance and participation in the meeting was advertised on television. I kept my commitment to the association.
"To the best of my knowledge the deputy was in her constituency on Tuesday and that was well known in advance of the announcement of the Tuesday meeting."
Dr Minnis would not respond to questions about his deputy's absence from the meeting.
At that meeting, senior party members agreed on a November 21 date for a snap convention. The convention was originally planned to be held in the first quarter of 2015.
Earlier this year, Mr Cash said all positions would be open for challenge at the FNM's next convention.
Mrs Butler-Turner and former FNM Senator Dr Duane Sands have both said they are considering challenging Dr Minnis for the party's top post.
It has long been speculated that some in the FNM are anxious for a convention as there is a divide over Dr Minnis' leadership style and effectiveness.
In an interview with The Tribune in February, Dr Minnis said he is not concerned with losing his political post. He said his main concern at that point was to ensure that the country was headed in the right direction.