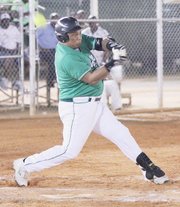 By BRENT STUBBS
Senior Sports Reporte
rbstubbs@tribunemedia.net
ALCOTT Forbes was on top of his game and that made all the difference as the defending champions Arnette's Sporting Lounge Hitmen stunned the pennant winning Sting Truckers 13-3 to snatch game one of the New Providence Softball Association's best-of-seven Carl 'Bang Bang' Johnson championship series.
Thursday night in the Banker's Field at the Baillou Hills Sporting Complex, Forbes fired a three-hitter with six strike outs and he helped his own cause by going 4-for-4 with two RBI and three runs scored.
"This was a good start and I wasn't even surprised at the results because we are still the best team in the country, even though we fell short of that in the round robin last year," Forbes said. "But everybody knows who is the best team and they have to come and see the Hitmen."
The Hitmen, managed by Darren Stevens, is hoping not only to repeat as the NPSA champions, but also go on to play in the Bahamas Softball Federation's National Round Robin at the end of the month and a chance to redeem themselves from their dismal showing last year.
In their first step towards their first goal, they broke up a 1-1 tie through the first four innings by scoring three runs in the fifth, highlighted by a run-producing single from Rudy Fox. They then blew the game wide open in the seventh, putting nine more runs on the scoreboard on seven hits as they chased Truckers' starting pitcher Thomas Davis for Eugene Pratt, who tried to close the door.
But by then, the damage had already been done.
The Hitmen batted around the clock as Adrian Pinder came up with a two-run single and Rashad Seymour a bases clearing three-run double before Keiron Munroe continued with a RBI double and Angelo Dillet, Forbes and Rudy Fox all had RBI singles consecutively.
With the game out of reach, Forbes got a little weary and the Truckers took advantage as Teran Wood led off the bottom of the seventh with their first hit of the game - a single, and Pratt walked.
That was followed by Garfield Bethel's RBI double that plated Wood with one-out, Ramon Johnson got a RBI sacrifice fly to score Pratt and it appeared as if the Truckers were in business.
But Forbes got Orlando White to hit into a grounder to replacement third baseman Brad Wood Jr for the final out of the game.
Truckers' manager Perry Seymour said Forbes was simply on his game and there was nothing that they could do about it.
"Everybody knows that when Alcott is on, it's going to be a hard game," he said. "My team made some errors in the first few innings, we got flat and we didn't hit behind our pitcher as they did behind Alcott.
"They played a good game and everybody can tell that between these two teams, it's going to be a good fight. If we don't make the mistakes, we can change this series around in game two on Saturday night."
As they look ahead to game two as well, Forbes said if his team can come out and have some fun, they will be in a better position to continue their winning streak.
"Once you come to have fun and you are not too tense, everything will fall right in place," he said. "We have to come and play the game for what it's worth and take it to the Truckers and execute the plays that the manager puts forth."