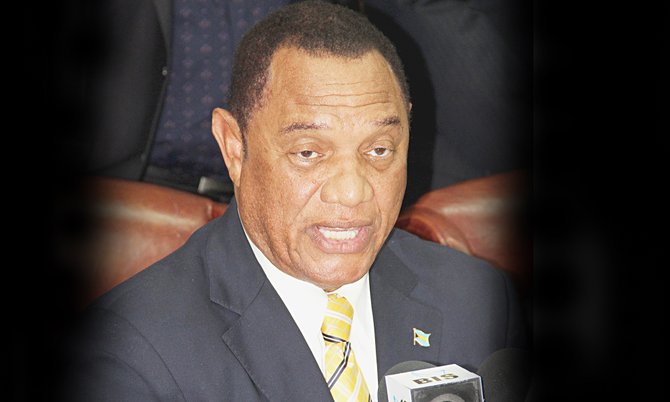 By KHRISNA VIRGIL
Tribune Staff Reporter
kvirgil@tribunemedia.net
PRIME Minister Perry Christie yesterday said he has not spoken to Bamboo Town MP Renward Wells since he was fired as parliamentary secretary in the Ministry of Works last week.
Mr Christie admitted to The Tribune that by now he expected Mr Wells would have explained to the Bahamian people why he had signed a $650m letter of intent (LOI) with Stellar Waste Management in July.
Since no statement has come from Mr Wells, Mr Christie again said he would eventually speak on the matter. However, he gave no time frame as to when that would happen.
"I will get to it," Mr Christie said yesterday. "I do understand my obligation to the public. I had anticipated that he was going to say something besides that if (Fort Charlotte MP Dr Andre) Rollins goes he was going to go as well.
"He is a young Bahamian and I am giving him the opportunity to speak to this issue. If he doesn't, obviously I will have to speak to it and  I tried to explain that to him."
Asked if his investigations were able to pinpoint why Mr Wells signed the LOI, Mr Christie responded: "Only he can explain that. Only Wells knows why."
The signing of the LOI was reportedly unauthorised.
Works Minister Philip Davis and Minister of Environment Kenred Dorsett have both expressed surprise over the matter.

It has been reported that Mr Christie asked Mr Wells to resign over the LOI shortly after the matter was made public in July, but the Bamboo Town MP did not step down. However on Monday, Mr Wells was quoted as saying he would "go too" if the Progressive Liberal Party expels Dr Rollins, his friend, from the party.
Dr Rollins is in the midst of hearings before a PLP disciplinary committee which was formed to make recommendations about his future in the party.
The committee was convened after Dr Rollins made several controversial statements in the House of Assembly criticising the PLP and Mr Christie. The disciplinary committee was formed after Dr Rollins refused to apologise to Mr Christie for his remarks, as recommended by the party's National General Council.
Former PLP Cabinet Minister George Smith this week shot down Mr Wells' resignation threat saying that he did not have the political clout to "stand on a bully pulpit and talk tough".
Mr Smith said the MP only managed to capture 39 per cent of the popular vote in his constituency in the 2012 general election, which did not signify strong support in his constituency.
Mr Wells told The Tribune yesterday that he did not want to comment on the matter.