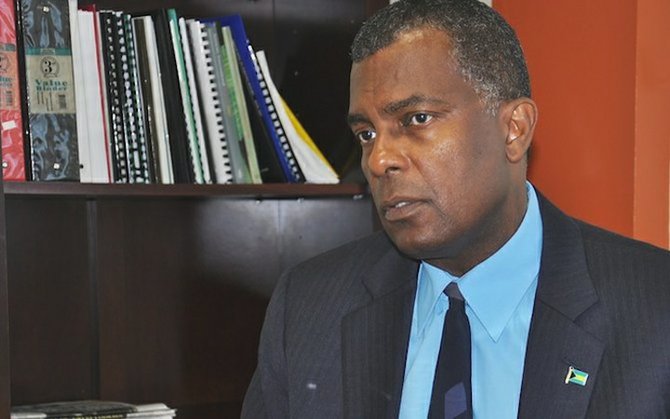 CLARIFICATION: Please note, the headline and opening paragraph of this story has been edited, and the November 1 deadline is still on track.
By AVA TURNQUEST
Tribune Chief Reporter
aturnquest@tribunemedia.net
HAITIAN nationals with a claim to Bahamian citizenship may be given additional time to allow for processing delays for documents once new immigration policies come into effect next month, Immigration Minister Fred Mitchell said yesterday.
Mr Mitchell said both the Haitian embassy and the Department of Immigration have indicated that the period was needed to process the demand for passports and applications for residence permits.
The Department of Immigration will receive a staffing boost of 60 officers next week to assist with enforcement of the new policy, according to Mr Mitchell, who also revealed that the Carmichael Road Detention Centre was currently at maximum capacity.
He explained that embassies, and related stakeholders, have all confirmed their ability to facilitate the stricter regulations on November 1.
Mr Mitchell said: "We've had considerable feedback from the public about the policies, and there is nothing that would suggest that we need to change the implementation date. The first of November will go ahead.
"I've spoken to the (Haitian) ambassador who raised this issue of the possible administrative delays and we've said three months, so that we're hoping everyone is in the main, up to speed by the time school opens in January, that's the idea. We're watching to make sure there is an orderly process and that people are treated fairly."
He added: "The Haitians themselves have not said that they can't meet the deadline, they haven't said that, there's no complaint about that."
Mr Mitchell spoke to the media on the sidelines of the official opening of Diplomatic Week at the Melia resort.
The new policy mandates that persons who are applying for a work permit without legal status will need to be certified by a local embassy or nearest Bahamas mission in their home country. Certificates of identity issued to persons born to foreign parents legally residing in the Bahamas will not be renewed, instead a passport of their nationality with a resident stamp will be required.
Mr Mitchell acknowledged that the passport requirement for non-nationals was the most contentious issue with the new policy, however he maintained that persons born in the Bahamas to foreign parents are not automatically entitled to citizenship.
Yesterday, he said: "It's just a generic policy, which says that you have to have something which shows you have the right to live and work in the Bahamas, and those who don't have that right to live and work in the Bahamas have to be excluded from the Bahamas.
"The difficulty, of course, is that there is this category of persons who have not been getting status even though they were born to foreign parents and they need to start getting the status because our constitution does not confer citizenship at birth.
He said: "If you are here lawfully in the Bahamas, born in the Bahamas lawfully, you should get the passport of your citizenship and you will get a resident stamp to live in the Bahamas."
Children born in the Bahamas to illegal migrants will be deported with their parents, Mr Mitchell confirmed in an earlier interview. He explained that while these children could not receive a resident stamp, there was consideration to amend the visa regulations so that affected persons with a contingent right to apply for citizenship could re-enter the country.
Yesterday, Mr Mitchell shrugged off concerns that the new policy would encourage unregularized persons to go into hiding, or create difficulties for children of migrants to attend school.
"The physicist will tell you for every action there is an equal and opposite reaction, so I suppose there will be some people who will try and evade the law," he said. "That's not my issue. We have law enforcement bodies who are tasked with doing that, we need to track this, the Defence Force, police, everybody working together will keep tracking this.
"Right now the detention centre is full, 300 people to the point where it's just reached capacity. We're going to have a flight going out shortly and then fellas are back on the road again. This is relentless, we need to have law and order in the place and that's all there is to it."
He again addressed concerns of possible issues that may arise from the new policies.
Mr Mitchell said: "I'm sure there may be some difficulties (with schools), but whatever difficulties there are – those are questions of management and administration, that's all. I don't see them as overwhelming difficulties at all.
"I don't anticipate any (problems), right now for example you have to have a national insurance number to get registered to go to school. That's the requirement right now."
Mr Mitchell reiterated the call for Bahamians to stop facilitating illegal labourers, adding that this practice was driving unlawful migration.
"Only we can stop it, you can't condemn everybody, but some of our own people are driving this and we need to stop," he said.