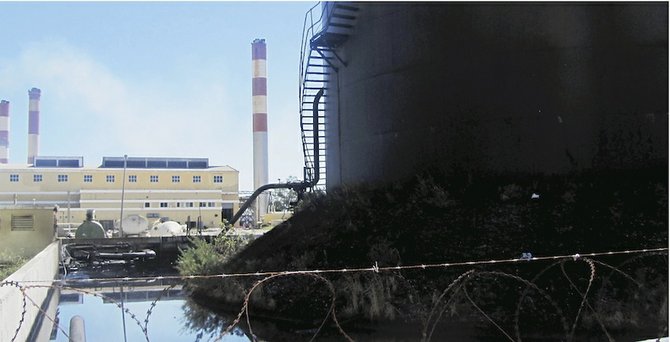 Is the Bahamas really serious about environmental pollution and public health? Ava Turnquest, chief reporter, says the clamour to put lives before political posturing must grow louder.
Prime Minister Perry Christie took the developed world to task last month when he issued a strong plea for the financing of an action plan on climate change. Optimism over reducing the country's carbon footprint was tempered several days later by the announcement that oil drilling regulations were complete, and private exploration was ever closer on the horizon.
As longstanding outrage over environmental pollution at Clifton Pier ebbs with the tide of political agenda, it becomes clear that concern over the relationship between the environment and public health is not a part of the national narrative.
On a recent tour of the area bordering the Bahamas Electricity Corporation's (BEC) Clifton plant, former State Minister for Environment Phenton Neymour led media to several sites where it appeared that oil had been allowed to gather in pockets above ground undisturbed. The former FNM junior minister alleged that the corporation has continued to allow waste oil to spill out of containers and drain directly into the sea, thus accounting for the recent spate of oil sightings at nearby beaches and during dive tours in the area.
Despite published photos depicting what Mr Neymour alleged to be pools of waste oil surrounding tanks and contaminated cooling wells, there has been no explanation given by BEC. When contacted for comment in the days following the press tour, chairman Leslie Miller's only response has been to discredit Mr Neymour's alarm over practices at the Clifton plant as politically motivated.
On that matter, I don't think there is anyone that doubts Mr Neymour's actions were completely devoid of political aspirations - his party's convention is but weeks away. What is doubtful, and on the part of BEC, are horror stories from local divers who point to oil-coated gear and pictures of sludge washed up on beaches.
Mr Neymour has sounded the alarm over conditions and poor storage habits at the Clifton Pier since 2002, when he warned that practices could lead to a massive explosion.
In an article on March 7, 2002, he said: "Allowing this petroleum product to be left open to the environment exposes the Clifton area and the island to an extreme risk of a large-scale explosion. It is evident there has been a massive petroleum spill. Obviously thousands of gallons of petroleum product have been left on the ground for years, after an apparent release, contaminating the area."
Given that the Free National Movement would not be voted out of office until two months later, Mr Neymour made these statements as the then-government.
Whether we choose to believe Mr Neymour's intentions, it is clear that environmental pollution at Clifton must be mitigated. Perhaps part of the reason why Clifton, and the laundry list of other environmental travesties, have been left to languish on as a political cheap shots is due to the lack of truly independent advocates for reform.
It would appear that every voice in the marketplace has a history - and a set agenda. Could it be that there are no independent, research-backed, actors in the public sphere, or is it just that a precursor for lobbying in the Bahamas is a clear and direct personal gain?
I won't call any names, but I will stare pointedly at the Bahamas Environment, Science and Technology (BEST) Commission.
In November last year, Mr Christie forecast that the Bahamas Agriculture and Marine Science Institute (BAMSI) would play a critical role in all environmental assessment requirements for development. Lack of awareness and education has shortchanged the country, Mr Christie said, preventing Bahamians from capitalising on unique economic opportunities.
He pointed out that millions are spent on assessments conducted by Canadian or American firms.
Now that the first 45 students at BAMSI are well into the semester, we can only hope that this vision is adhered to.
Perhaps with Bahamians at the helm of environmental research, we can do away with the practice of contracting independent studies and then sitting on the results.
By keeping documents that should be publicly accessible incubated, does this in some way lessen its impact? Perhaps information gathered by independent consultants must be stored like fine wine, allowed to age until they mature into heat-seeking election campaign missiles - at least this is what seems to be the trend.
Only time will tell in the case of Minister of Environment Kenred Dorsett and the "detailed report" on the underground gasoline leak at the now-Rubis Bahamas service station on Robinson Road and Old Trail Road.
We know that an estimated 30,000 gallons of fuel escaped from storage tanks and into the groundwater, and it was initially reported in late 2012 despite the fact that most residents did not start experiencing problems until January 2013. We also know that it wasn't the first leak of its kind because of references in government documents to a "historic leak" believed to be the cause of isolated groundwater contamination at the south east corner of the property.
We know that residents immediately bordering the service station have not been tested for exposure to dangerous chemicals, despite repeat testing being done inside their homes and numerous wells drilled on their property.
We know that the Robinson Road gas station was declared safe to re-open in July this year, after allegedly receiving "all clearances" from the Government.
We know that Cable Bahamas is seeking $15m in damages over the gas leak that Rubis inherited through acquiring Chevron's local Texaco business in 2012. Cable Bahamas filed civil action in the Supreme Court, seeking damages and compensation for the 18-month, pollution-enforced closure of its customer service building. The telecommunications provider has stated that more than 40 of its employees had to receive medical treatment.
We also know that Cable Bahamas' attorney is Fred Smith, a Callenders & Co partner, who is a director of Save the Bays.
Grand Bahama Human Rights Association (GBHRA) vice president Joseph Darville yesterday issued a statement condemning the government's perceived silence on the matter. For him, the incident has dredged up outrage over environmental pollution in Grand Bahama settlements near Freeport Industrial Park.
Mr Darville, principal of the Grand Bahama Catholic High School, alleged that 13 out of 94 students from the graduating class of 1982 have died of cancer. The school wasn't moved out of the Hawksbill area until 1988.
Cancer is tricky however, to quote Lillian Russell, a Marathon resident who recalls being overwhelmed by fumes while showering in her home in the early 1990s.
We can only hope that the $500,000 contract signed this year by the government for a study to be conducted by the Pan American Health Organisation (PAHO) and the World Health Organisation (WHO) into the Pinder's Point, Lewis Yard and Hawksbill communities will be conclusive.
In a press statement yesterday, Mr Darville said: "It breaks my heart to think that after all these years, and all our efforts, so little has changed. Those in authority still care far less for the citizens they are duty-bound to protect, than for the interests of huge multinational companies that are the source of these disasters.
"The GBHRA demands that this government take action now. And, we call on the area's representative, Jerome Fitzgerald, to break his silence and tell constituents what he knew about the danger they face, and for how long.
The statement continued: "We also call on the FNM and the DNA to break their silence on this issue. The most fundamental duty of a politician is to concern themselves with the safety of those by whom they were elected, or hope to be elected.
"Finally, we call on every resident of this wonderful country who values the safety and security of their family, to join hands with the residents of Marathon in demanding a rapid resolution to this situation. After all, if lives in one neighbourhood can be put at risk with impunity, any of us could be next."
Mr Darville is also the Education Director of Save The Bays.
As The Tribune canvassed the Marathon area these past weeks, a constant reference has been the film Erin Brockovich, based on life of an American legal clerk and environmental activist who played an integral role in a landmark case against Pacific Gas and Electric Company (PG&E) of California in 1993. Brockovich uncovers that the local electricity company has contaminated a town's water supply, which led to the acute poisoning of residents.
It's no wonder why most residents interviewed all referenced this film. The people of Hinkley, a whopping 634 plaintiffs, won $333m in damages from PG&E in one of the largest class action lawsuits in the United States.
While PG&E fit the role of no-good deep-pocketed oil corporation, bribing both residents and doctors alike, Rubis Bahamas surprisingly is seen in a relatively amicable light by most Marathon residents interviewed.
The company, barring anything that would admit liability, has engaged some of the residents personally in a bid to provide assurances that the clean-up is going smoothly. However, with scenes of a fearless and provocative Julia Roberts - the lead actress in Erin Brockovich - on the screen and a multi-million dollar lawsuit from corporate giant Cable Bahamas in the courts, Marathon residents are rightly suspicious that they are being duped.
Although confirmed health risks can be perceived as imaginary until proven by a court, the consequences of groundwater contamination are tangible for homeowners who have watched their property value plummet and are unable to get insurance.
In a letter to the BEST Commission dated September 16, 2014, Marathon resident Annie-Laurie Munroe wrote: "I can find no other words to express how seriously disappointed I am as a citizen and as a resident of this country at this point in time. Particularly, I am disappointed in how this matter from a governmentally administrative perspective is being dealt with.
"My humble request is only that some written communication which properly and unbiasedly informs us of the details and implications of our living at our address."
The letter added: "Primarily we hope that some detail can be given pertaining to the impact on our present and future health and environmental wellbeing post the fuel leak and water contamination based on the independent consultant's report."
• What do you think? Email aturnquest@tribunemedia.net