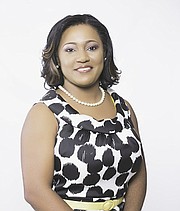 By ALESHA CADET
Tribune Features Reporter
acadet@tribunemedia.net
THROUGH HER firm Pearls of Wisdom Financial Coaching, financial coach Tishka Scott is encouraging Bahamian women to change their mindset when it comes to money.
The Nassau native works daily at helping women recognise their emotional triggers surrounding spending and realise their financial futures. Her consultations go beyond the budgets and spreadsheets.
Over the past decade, Ms Scott has worked in the pharmaceutical industry, in information technology and in non-profit management, but her true passion is money management. She started coaching professionally just over a year ago. However, she has been coaching friends and family unofficially for more than four years now.
"I chose financial coaching because I want to help young professionals, particularly Bahamian women, maximise their working years by being financially prudent. While mindless spending is tempting, it is important for women to secure their own future," said Ms Scott.
With her profession, Ms Scott said the results are measurable and that is one of things she enjoys about this field. In her coaching sessions, she typically uses a 90-day benchmark to help persons reduce expenses and increase monthly income.
Within that three-month window, she said clients are usually surprised at how small life changes can yield substantial results.
Next month, beginning November 10, she will launch the Financial Freedom Academy, a seven-week course that will walk participants through effective budgeting and goal setting, debt dumping, curbing emotional spending and ways to increase earning potential. Weekly breakout sessions will deal specifically with financial challenges and goals.
Ms Knowles said the idea to launch the Financial Freedom Academy came about due to her experience with one-one-one coaching sessions with clients. She realised that based on those interactions there was a need for financial coaching that addresses the whole woman.
"There are emotions attached to spending, and any form of financial planning should take that into consideration. I'm inspired when I see the light bulb moment with clients when they finally make the connection of what has been keeping them back financially. It's also rewarding to see them apply what they learn to their lives. Within one year, clients using my methodology have reduced debt by more than $5,000 and added $10,000 plus to savings. That financial nest egg could mean the difference between having the funds to start a business, placing a down payment on a real estate investment or funding an advanced degree," she said.
Ms Scott said it is important for women to take control of their financial futures, especially during peak working years while they earn significant income, and proper planning greatly impacts how a person spends their retirement and the quality of life in later years.
After completing her sessions, Ms Scott said persons should have strategies to combat emotional spending and a plan to eliminate any financial stumbling block standing in the way of their success.
Persons interested in the Financial Freedom Academy, can -mail tishka@powfinancialcoaching.com or call 424-6146.