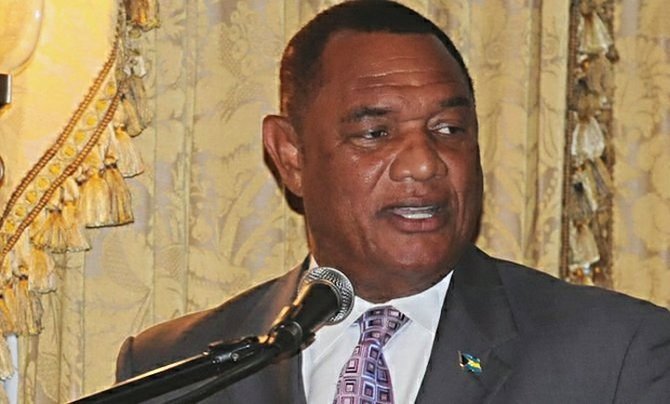 By AVA TURNQUEST
Tribune Chief Reporter
aturnquest@tribunemedia.net
PRIME Minister Perry Christie yesterday warned shipowners of the "deleterious" effect a report or confirmed case of the Ebola virus would have on the country's economy.
Mr Christie underscored the importance of strict adherence to national protocols given the country's transshipment linkages between the west coast of Africa and Grand Bahama.
He restated the Ebola Task Force's commitment to ensuring prompt and effective response to real or suspected cases during his welcome remarks at the annual general meeting of the Bahamas Shipowners Association.
"We are acutely aware that the security of our nation is threatened by the Ebola virus disease," he said. "The Bahamas is a nation that has that shipping coming in from the west coast of Africa into Grand Bahama. It is so necessary to have this open dialogue and wonderful working relationship with partners that exist in our country and who have responded magnificently."
Mr Christie said: "We know that any report or incidence of this virus can have a deleterious affect on our economic lifelines; for this reason the government of the Bahamas has established an Ebola Task Force. The primary concern of this task force is to be able to respond at a moment's notice to any real or suspected cases of Ebola virus from a public health and medical standpoint and to put in place all of the necessary protections that a country ought to have aligned with this."
Mr Christie said that the technical alert issued by the Bahamas Maritime Authority should be adopted as a "matter of emergency" on all Bahamian ships in a bid to collectively reduce the risk of exposure to crews and citizens.
"We have put in place protocols that will ensure port and airport safety and notification protocols for ships at sea," he said, "whether travelling to Bahamian ports or sailing through the Bahamas. It is certain that these protocols and these standard operating procedures will be made available to you in the interest of public safety and to protect the shipping industry."
Ebola is a deadly virus that is acquired by contact with blood or body fluids of an infected human or animal. Since March, the disease has spread to Liberia, Sierra Leone, Guinea, Nigeria and Senegal in west Africa. However, last week, Nigeria was declared Ebola-free by the World Health Organisation after a 42-day period with no new cases.
The disease has also been documented in the United States, according to the US Centres for Disease Control.
Thomas Duncan, after entering the US from Liberia, died in Dallas, Texas, from the disease. Two nurses who cared for Mr Duncan, have subsequently tested positive for the virus.
Last week, a medical aid worker who had returned to New York from Guinea, Dr Craig Spencer, was diagnosed with the disease.
Jamaica, Trinidad and Tobago and St Lucia announced earlier this month immediate travel bans on anyone that would have come from or through Liberia, Guinea and Sierra Leone, where nearly 4,500 people have died from the virus.