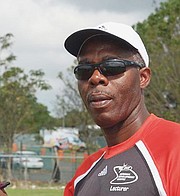 By BRENT STUBBS
Senior Sports Reporter
bstubbs@tribunemedia.net
THE Bahamas Association of Athletic Associations has joined the International Amateur Athletic Federation (IAAF) and the newly formed Caribbean Sports Journalists Association in expressing its sadness on hearing the news of the death of Lenford Levy, director of the IAAF Regional Development Centre (RDC) in San Juan, Puerto Rico, on Wednesday.
"The link in our athletics 'family' has once again been broken as I confirm with much regret and sadness the sudden death of Lenford Levy, the director of the IAAF's RDC in San Juan," said BAAA president Mike Sands. "Many of us have had the good fortune of knowing Lenford as 'our friend' over the years through our interactions and participation in IAAF courses and seminars."?
On a personal note, Sands said he knew Levy very well.?
"My latest interaction with Lenford was a few days ago when I sought his approval to admit two of our BACO officials to an IAAF/TOECS Level 11 Evaluation Seminar which is scheduled to begin on December 15, 2014," Sands said. "Lenford was a true friend of the Bahamas."?
NACAC president Victor Lopez said Levy's death has left a great void in the sport. "It is a great loss to athletics," Lopez said. "Levy has been a special friend and someone who has made a great contribution to track and field in the NACAC area."
Levy, a Jamaican national, has been involved in the development programmes organised by the IAAF and is known throughout the track and field world.
"It's a very sad moment for us and on behalf of NACAC and the IAAF, we extend condolences to his family," said Lopez.
Michael Bascombe, president of the CASJA, which was formed this year by a number of journalists from Grenada, Jamaica, Barbados, Trinidad & Tobago and the Bahamas, said Levy has also been a close associate of the journalists in the region.
"Levy is a familiar face at track and field. He'll be greatly missed for his exuberance for excellence on and off the field," said Bascombe.
"CASJA has forged a unique relationship with the RDC, including the hosting of a regional seminar in San Juan in 2015. We join the athletics fraternity in extending condolences to the Levy family and friends."
One of the main objectives of the RDC is the training and development of coaches in the Caribbean and Levy has previously outlined a number of programmes at the RDC including a seminar for long and triple jumps, level two education courses for coaches and technical officials and a youth athletics seminar.