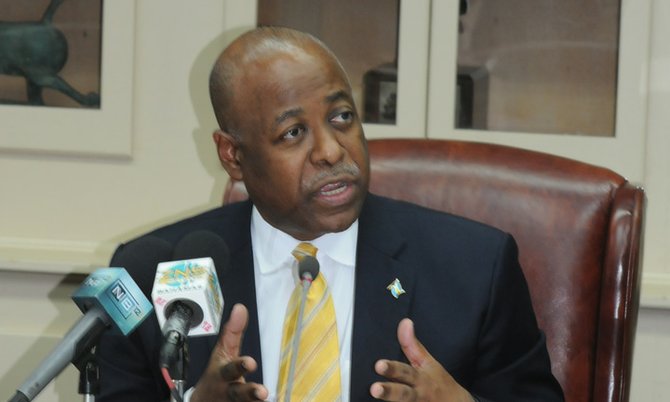 By RASHAD ROLLE
Tribune Staff Reporter
rrolle@tribunemedia.net
CONTRARY to what was mandated in a previous draft of the Gaming Bill, webshop businesses that qualify for government licences will no longer be required to shut down while the gaming industry is regularised, Tourism Minister Obie Wilchcombe confirmed yesterday.  
He added that those businesses will be allowed to continue offering services during the industry's transition period, a period he expects to last no less than six months.
Mr Wilchcombe was speaking to The Tribune about the matter as the government continues to work on "final details" of its anticipated Gaming Bill, which is expected to be tabled in the House of Assembly this week.
Among those final details, he said, was the rate at which to tax webshops.
"The rate is still being discussed," he said. "We've played with several numbers. The former Ingraham administration thought about 10 per cent. The rate we will tax them at will be higher but we are still determining it."
He also confirmed that seven or eight licences will be offered to gaming operators, adding that the total price of the licences will be addressed in Parliament on Wednesday.
"Eleven or so companies are in gaming right now and so we're thinking (how many licences we give) will be predicated on those who can withstand the wherewithal to stay in the business," he said.
Nonetheless, Mr Wilchcombe said his government is still discussing the regularisation of the gaming industry with banks in an effort to gain their support. Despite the Christie Administration's decision to meet with representatives of the Financial Action Task Force (FATF) and to implement their recommendations with respect to the gaming industry, Mr Wilchcombe said "certain banks have made it clear they do not engage in gaming revenue at all."
Several weeks ago he told The Tribune his government was making progress with gaining the support of banks.
"All banks are concerned about any issue relating to circumstances and they want questions answered about banks being used for the wrong reasons," he said, stressing that discussion with certain banks is ongoing.
"It's far from being a done deal. We have much more work to do. After regularising the industry we will have to do audits to ensure numbers given are correct and to determine how the business works."
Attorney Wayne Munroe, who represents some webshop operations in the country, said yesterday that he isn't concerned about banks not supporting the impending gaming regime, adding that the government could "always" attract banks from around the world who would be willing to support it.
"They could go to Canada or the English banks that accept money from online gaming or Malta," he said. "If the local banks decide not to do business, they are not the only ones who could offer them."
He also expressed satisfaction with the government's decision not to enact a closure period for webshop businesses that will receive a licence.
"That's what would make sense," he said. "Let's assume you have 3,000 people working in the industry. Are you going to fire all of them during a closure period? The closure period has never made sense and that's what we've said from the beginning."