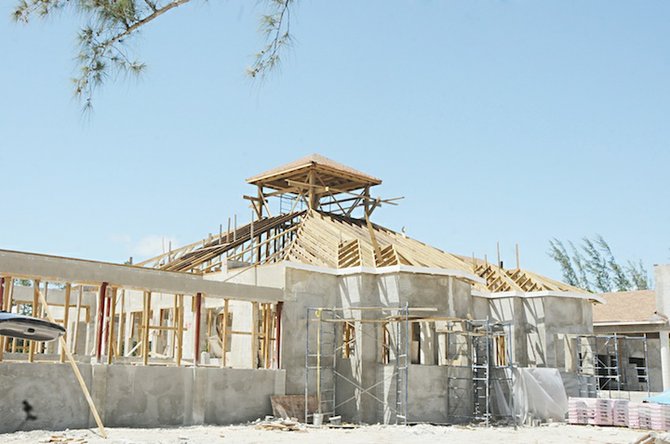 By NICO SCAVELLA
ANDROSIAN Dr Raveena Roberts-Hanna was officially appointed as Executive Director of the Bahamas Agriculture and Marine Science Institute (BAMSI) yesterday.
During a press conference in the Majority Room in the House of Assembly, Minister of Agriculture Alfred Gray described Dr Roberts-Hanna as "very experienced" and "academically strong" and said her "roots" would bode well for the soon-to-open institute. "BAMSI and the school which it represents certainly is going to be better off because it has been able to capture the talent of a wonderful professional woman, and I emphasise 'woman' because I believe she would probably be, historically speaking, the first executive director of BAMSI, and that's going to go down in history as a first for a woman in that regard," he said.
"She is from Andros by heritage and that speaks well to the fact that the school is in Andros, and we have our first leader coming out of Andros. I think that's wonderful."
Minister of Education Jerome Fitzgerald, whose ministry the BAMSI project also falls under due to its academic components, praised the newly-appointed executive director for her many academic achievements.
"We're very pleased when we look at the qualifications of a very young, aspiring, dynamic Bahamian who is able to fill the post that we had advertised," he said.
"From the Ministry of Education's standpoint, we're looking forward to the programmes that will be initiated there under the support and direction of the College of the Bahamas (COB). But we look forward to producing a great number of persons who would be qualified and who are interested in the field of agriculture."
According to Mr Gray, Dr Roberts-Hanna has a Bachelor of Science degree from the University of the West Indies, a Master's degree "with distinction" from the University of Liverpool, and a Doctorate degree in Philosophy with special emphasis on post-harvest technology from the University of Newcastle, England.
He added that she had been in the business of academics and research "for over 12 years".
Dr Roberts-Hanna said she is looking forward to rearing "a generation of entrepreneurs" and equipping them with "all the knowledge they actually need to be successful".
"I can assure you that with God's help and the BAMSI team we will transform your vision into something not only tangible but functional and invaluable," she said.
"We will achieve the goals as stated by the Prime Minister to ensure food security for Bahamians through quality education, cutting edge technology and training, and entrepreneurship.
"I'm excited and I want the country to be excited as well about this opportunity to really take agriculture and marine science to the next level, so you have to get on board."
Speaking to The Tribune, Mr Gray reiterated his recent claims that BAMSI "will open on time" and responded to Opposition Leader Dr Hubert Minnis' recent comments that slammed the government over its failure to meet the proposed deadline for BAMSI's opening.
"Dr Minnis as leader of the opposition has to do what he has to do," he said. "Unfortunately he is going to be disappointed because the school is going to open on time, the buildings will be completed, and it's not going to fail. I'm sure that's what he hopes will happen, but that will not happen by God's help. We're going to open on time, we're going to show the Bahamian people that any nay-sayer that thought it would not have happened would be muted by the fact that we are on target.
"It's being opened on the 29th (of this month). I don't consider that a delay. The school is going to open on the 29th of September. It is fully complimented with 50 students, the lecturers and all those who are going to be expected to be in place on the 29th raring and ready to go."
BAMSI will be an autonomous body situated in North Andros. Accredited associate degrees and certificates will be offered by COB through its partnership with BAMSI. Mr Gray also said his ministry is inviting the media to accompany them on Monday when they plan to visit BAMSI in order to have a look at its farm.