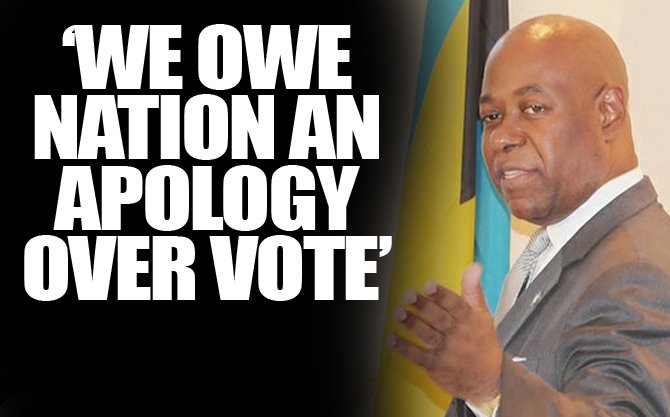 By KHRISNA VIRGIL
Tribune Staff Reporter
kvirgil@tribunemedia.net
TOURISM Minister Obie Wilchcombe said the Christie administration "owes" the Bahamian people an apology for its decision to go against the majority "no" vote of the January 28, 2013 gaming referendum.
However, he said, the government could not avoid moving forward with regularising number houses in the country.
Mr Wilchcombe explained yesterday, as he spoke to reporters after a tour of a hotel on Rose Island, that it was the government's initial intention to respect the outcome of the referendum, which cost taxpayers $1.2m. 
However, he said, this position was abandoned after the Central Bank of the Bahamas warned that unregulated web shops were expected to harm the financial services sector.
As the government prepares to debate the newly tabled Gaming Bill and regulations, Mr Wilchcombe insisted that the government was not concerned with criticism from detractors.
"We do owe the public an appreciative apology, for first of all participating in the gaming referendum and secondly we had to revisit it," Mr Wilchcombe said.
"But when the Central Bank raises a red flag and says a problem is developing we have to, because of our financial services sector being in jeopardy (and) facing difficulties, then we had to make a decision and the best decision was to regulate (the sector). We had the Attorney General travel around the world and talk to individuals to ensure that we were putting the legislation the way it needed to be done and it could stand up to scrutiny. We think we have done a good job.
"We are not concerned about criticism, we took a giant step that should have been taken years ago, but couldn't be taken years ago (because) the Bahamian people weren't ready for it. We had a referendum for instance (and) Bahamians said 'no'."
Before the 2013 referendum, Prime Minister Perry Christie pledged that his administration would abide by the results of the non-binding poll. After the vote, he ordered web shops to shut down their gaming operations; however a group of web shops filed a court action to block their closure.
Earlier this year, Mr Wilchcombe revealed the government was considering regulating and taxing web shops and that the taxes would be retroactive to July 1.
The government's choice not to stick with the gambling referendum results sparked a firestorm of criticism not only from religious groups, but from the Free National Movement.
Party leader Dr Hubert Minnis told The Tribune in the lead up to the tabling of the Gaming Bill that such a move should warrant an early election. Dr Minnis has insisted that any decision to revert from the referendum would signal a shift from democracy to dictatorship. He has lashed out at the government for wasting public funds on the vote.
Bahamas Christian Council president Ranford Patterson has said he would not support future referendums because of the government's failure to honour the gambling referendum's results.