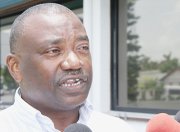 By SANCHESKA BROWN
Tribune Staff Reporter
sbrown@tribunemedia.net
PHENTON Neymour, former State Minister for the Environment, said yesterday the government should "cover the cost" of the $30 price hike in electricity bills instead of "forcing BEC customers to pay for their incompetence."
Mr Neymour told The Tribune it is "unchristian" of the PLP and Leslie Miller, the BEC chairman, to make customers pay more money for less service.
His comments came one day after Mr Miller said customers can expect to see an increase of "about $25 to $30" in their October bill. He said running the Blue Hills Power Plant at full capacity to meet the demand after two engines shut down at the Clifton Pier plant has caused a slight increase in the fuel surcharge.
However, Mr Miller told The Tribune load shedding in the capital has ended, meaning that the increase will only be for one month.
Mr Neymour said charging customers more is unacceptable and the government should "swallow" the increase rather than "pushing" it on Bahamians who can "barely afford to pay their electricity bills as it is now".
"Mr Leslie Miller announced customers have to pay more as a result of the blackouts which in my view he caused. It is wrong for Bahamians to be charged for sub-par service being provided by BEC. Bahamians should not have to pay due to poor management," he said.
"This is a perfect example of how insensitive the PLP is. I recommend that they return to the policies of the FNM and follow what we left in place. We placed a cap on the fuel surcharge at 26 cents per kilowatt and now the PLP has allowed it to go as high as 30 cents, the highest it has ever been.
"The government should provide BEC with the $3m or $4m to cover the additional fuel. They need to recognise that Bahamians can not bear anymore and should not have to bear the responsibility for poor decision making and the weakness of the government in addressing the insanity of Leslie Miller.
"The Bahamian people should not have to pay. Why would you ask someone to pay more money for less service? It is wrong and it is unchristian."
On Monday Mr Miller blamed the price hike on the frequent power outages in the capital. "We use more fuel at Blue Hills than we do at Clifton so there will be a little spike, like two cents for a kilowatt, so for the average customer it would be about $25 to $30 a month but they won't see it until the October bill," he said. "It will only be for that bill because we are back to normal now.
"How long it will be this way, I cannot say because these things have become very frequent. We will not be able to guarantee anything until someone comes in and brings new equipment."
BEC has been plagued with power outages for several months and Mr Miller said this is the "worst he has ever seen it."
Earlier this month he said that without a new power plant, which will cost about $200m, the country will continue to be plagued by outages that will worsen when Baha Mar, the mega resort at Cable Beach, is added to the grid next year.