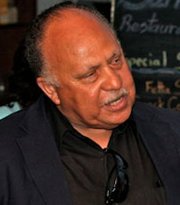 By KORTNEY RODGERS
UNEMPLOYMENT and a lack of follow-up treatment are some of the reasons people turn to suicide, according to noted psychiatrist Dr David Allen, who gave a presentation at a suicide prevention workshop yesterday.
Dr Allen's comments came at the event organised by the Psychology Department of the Sandilands Rehabilitation Centre. The facility hosted the one-day workshop in association with the Pan American Health Organisation to commemorate World Suicide Prevention Day.
Dr Allen, director of the Renascence Institute, spoke about suicide from the Bahamian perspective. He mentioned unemployment and the lack of follow-up treatment as some reasons for suicide, adding that "the factors causing homicide and suicide are similar".
"What we have to do is make sure our suicide rate doesn't follow our homicide rate," Dr Allen said.
In addition to examining warning signs of suicidal behaviour such as drastic mood changes, substance abuse and unnecessary reckless behaviour, the workshop also offered suggestions to help strengthen young people to protect themselves from suicidal thoughts during this developmental stage in their lives.
"It is important to educate the public and persons who are caregivers for children about some risk factors and preventative measures for suicide," clinical psychologist, Wendy Fernander told The Tribune.
The workshop, designed for individuals and groups who interact with and provide programmes for children, assisted in developing useful screening techniques and an effective institutional action plan for caregivers. According to the World Health Organisation's (WHO) first global report on suicide prevention, "more than 800,000 people die by suicide every 40 seconds".
Though suicide occurs all over the world and can take place at any age, reports by the WHO state that: "In some countries, however, the highest rates are found among the young. Notably, suicide is the second leading cause of death in 15 to 29-year-olds globally".
The workshop challenged the public to "act now" to help those thinking about suicide, which involves acknowledging and actively listening to persons considering suicide, caring for the individual and obtaining professional help for treatment.
The Sandilands Rehabilitation Centre encourages the public to attend its next major educational project on World Mental Health Day on October 10, under the theme: "Schizophrenia: fostering collaboration in education and care provision".