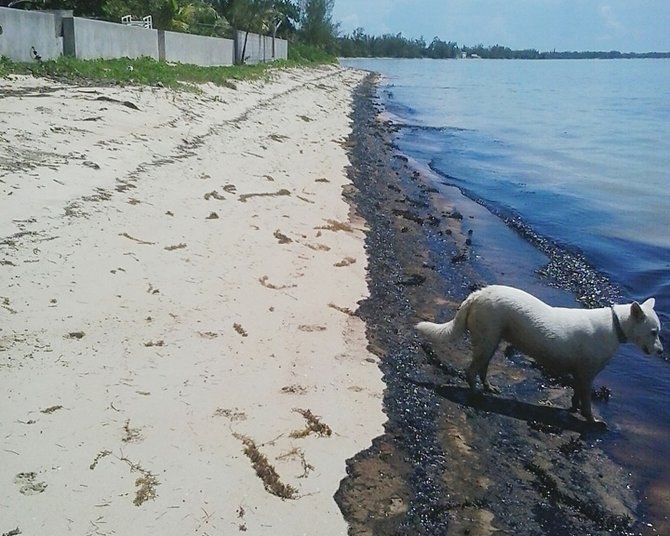 By NICO SCAVELLA
THE Ministry of Transport and Aviation has pledged that determining the source of an ongoing oil leak in the Clifton Pier area is a "priority" for the Christie administration.
This comes days after residents of Adelaide said that waves of "smelly black oil" that appeared on the Adelaide Beach last week might have been the result of ongoing oil leak problems from the Bahamas Electricity Corporation's Clifton Pier plant.
Susan Glucksmann, a five-year Adelaide resident, told The Tribune she was uncertain where the oil suddenly came from, but said it might have floated in from BEC's Clifton Pier plant, which she said is "about two miles" away.
On Saturday, this newspaper reported that Stuart Cove's officials complained that "black crude oil" and fuel oil emanating from BEC's plant are preventing them from conducting their diving business.
Ms Glucksmann took her dogs for a walk on Thursday. She said it was the first time she had seen the beach contaminated with oil.
"It just appeared there," she said. "I went on the beach about noon and it was everywhere. We don't know for sure if it's from BEC, but the way the tide was coming it was moving from that direction, downstream from BEC."
Ms Glucksmann said she heard from a neighbour that large amounts of oil had washed up on the shore and when she went to walk her dogs, she said the water was "brown and oily" and despite it being high tide the oil had already started to stick to the sand.
After taking pictures of the murky spillage, she said she alerted her neighbour, Sam Duncombe, the environmentalist and director of the nonprofit environmental watch group ReEarth, who informed her that the type of oil that washed up on the beach appeared to be Bunker C oil – "the kind of oil that only burns at a power plant."
"It could very well be BEC," Ms Duncombe said. "It's kind of like the elephant in the room. We've got a (BEC) plant that is essentially haemorrhaging oil out there, it's a whole industrial area out there, and there are places underneath where BEC is where there is oil. I've seen it for myself.
"I don't know if a boom has broken away at Clifton or if a ship dumped its bilge into the water right there and because of the winds and the tides this is where it happened to show up, but this is a problem all along the southern coast of New Providence, especially the western part. All around Clifton, all around Jaws Beach. I've been to Clifton before where I had to leave because the smell of oil was so bad. These are toxins that we're living with every single day."
"There's all kinds of birds along the beach that are stepping in it," Ms Glucksmann added. "It's a real environmental issue happening over here. I know not too many people seem to care about Adelaide Beach, but I'm sure if this happened on Paradise Island there would be a whole lot of ruckus. Hopefully if we get some visibility it'll pressure whoever did it to clean it up."
When The Tribune contacted Director of Environmental Health Melanie McKenzie about the matter last week, she said a team would be dispatched to "assess" the problem, but could not specify just who or what was responsible.
"We've sent some persons out there," she said. "We'll go and investigate, find out where's it's coming from, find out who is responsible, look at their plan to clean it up and make sure that process gets started.
"Once we determine what it is and where it's coming from the clean up begins according to who it is. We don't know where it came from. We don't know if it's active, whether it's some oil that spilled earlier and we weren't aware and maybe the weather is bringing it down, so we have to determine where it came from."
In its statement, the ministry said it was alerted on Saturday that oil had washed ashore on Adelaide Beach.
The government said members of the National Oil Spill Committee were notified to establish a plan of action while the Ministry of the Environment immediately dispatched technical officers from the Department of Environmental Health Services (DEHS) and the BEST Commission to visit the site.
"We note that much of the oily debris had been washed away by the tide after an apparent clean-up effort by concerned citizens.
"The Department of Environmental Health will seek to determine the source of the oil emission and other necessary clean-up and remediation actions as the investigation unfolds," the statement said.
"Due to the ongoing and the very long-standing environmental concerns at Clifton Pier, well in excess of a decade, and reports from the National Oil Spill Advisory Committee of the same, a Cabinet Committee was appointed to review the Clifton Pier area and the associated reports.
"Recommendations have now been advanced by that committee which includes the development and implementation of an environment management plan and an independent environmental review of the entire Clifton Pier area.
"Additionally, as Clifton Pier is an industrial area including power generation and the supply and distribution of petroleum products, all activities undertaken in the area will be analysed as part of the environmental review," the statement said. The government added that environmental protection is a priority for the Christie administration.