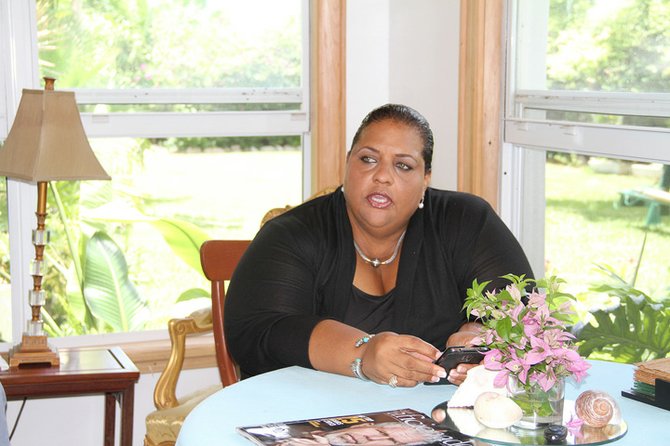 By SANCHESKA BROWN
Tribune Staff Reporter
sbrown@tribunemedia.net
FNM DEPUTY Leader Loretta Butler-Turner said she feels "uneasy" and "violated" after one of her cars was stolen from her yard on Tuesday night.
Mrs Butler-Turner said she has been living off Shirley Street for more than 20 years and has never been a victim of crime before the car theft. Despite being shaken up, she said she is thankful that her teenage son, who was home at the time of the robbery, was unharmed.
"They came into our yard, which has security gates and is guarded by three dogs and stole my Mercedes Benz," she told The Tribune. "My husband left the keys in the car because he, like me, felt the surroundings were safe. We went out in my husband's truck and came back around midnight," she said.
"We were suspicious when we met our gate open, then we noticed the car was missing and I started to panic because I knew my son was home. Thank God he was okay though. I have lived in this house for 25 years and never had anything like this happen. Never had a burglary, nothing, but I am grateful my son and my house are safe. I have never had a fear in my house, but this gives me a lot of thought."
Luckily, Mrs Butler-Turner said her car was found around 8am yesterday in an area where people are known for "stripping" stolen cars.
"I met with the police and they were very effective, but they did not find the car. A friend of mine did and told me where the car was," she said.
"I am advised that classic cars like mine are stolen for parts because they are more valuable than the newer ones and much more difficult to come by. The police have it now and are doing their investigations so hopefully they find who is responsible very soon."
When asked if she thought the theft was related to death threats she said she received a few months ago, Mrs Butler-Turner said: "I honestly do not know at this moment."
In June, Mrs Butler-Turner revealed that she had received a graphic death threat in March and then a phone call warning her to be careful.
Mrs Butler-Turner said she turned the letter over to the police in March, but felt the need to go public with the threat months later after receiving the warning phone call. In the threatening letter, Mrs Butler-Turner said the writer went into graphic detail of what was to happen to her in the moments leading up to her murder.