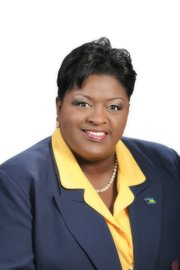 By NICO SCAVELLA
SOCIAL Services Minister Melanie Griffin yesterday said the Gaming Bill will now hold web shop operators accountable for ensuring that "counselling, education" and "assistance" are provided for "compulsive gamblers".
While speaking with The Tribune during the luncheon recess of the House of Assembly yesterday, Mrs Griffin could not say if the Gaming Bill would cause more dependence by gamblers on Social Services.
However, she said, the Bill contains provisions for web shop owners that would "greatly assist" the government in helping people with gambling addictions.
Her comments were in response to Bahamas Christian Council President Rev Dr Ranford Patterson's recent claims that the enacting of the Gaming Bill would result in a greater proliferation of gamblers in the country.
"We have in this (Gaming) Bill the opportunity for provisions to be put in place, I believe, that will assist us greatly in dealing with those persons who are involved and who have problems as compulsive gamblers or what they call problem gambling," Mrs Griffin said. "It makes the persons who are gaming operators accountable for dealing with those persons. I think over the years the problems have always existed, but there's been no one being held accountable to ensure that these persons get help. So with this Bill we have an opportunity to do that.
"We even have a provision from the Bill where such persons could be excluded from gaming, whether it's the person himself who goes to the court and says to the court 'I have a problem, I need help – I'm placing myself as one who wants to be excluded.' Or whether it's a family member who goes to the court and indicates that 'A member of our family has a problem, please assist us.'
"Once those orders are in place the gaming operators have to respond, in addition to which they must provide counselling, education, and must be able to enforce the provisions of the legislation that will assist persons who have a problem with gambling."
On Monday Dr Patterson warned the Christie administration that a greater proliferation of gamblers would emerge in the country subsequent to the enactment of the Gaming Bill.
He contended that with more people seeing the need to gamble, a "greater number of persons" would seek assistance from Social Services, which would subsequently be "further stretched" as a result.
Dr Patterson said, however, that the church would remain there to "support those who fall through the cracks" and are negatively impacted by gambling addictions.
Mrs Griffin yesterday could not say whether the number of persons seeking assistance from her ministry would increase as a result of the passing of the Gaming Bill, but said that as "Social Services is taking a hit right now," Dr Patterson may not have been misguided in his allegations.
"All I know is there are persons right now who come to Social Services for assistance who may well be persons who have problems with gambling or with gaming," she said. "We don't have any scientific figures to show that, but from time to time we've had that experience. I'm hoping that we'll be able to decrease it by being able to make gaming operators accountable and put in place the provisions of the Bill that seek to help such persons."
The Gaming Bill was passed in the House of Assembly Monday evening and now moves on to the Senate for debate. A vote will be taken before it is passed there and later enacted.