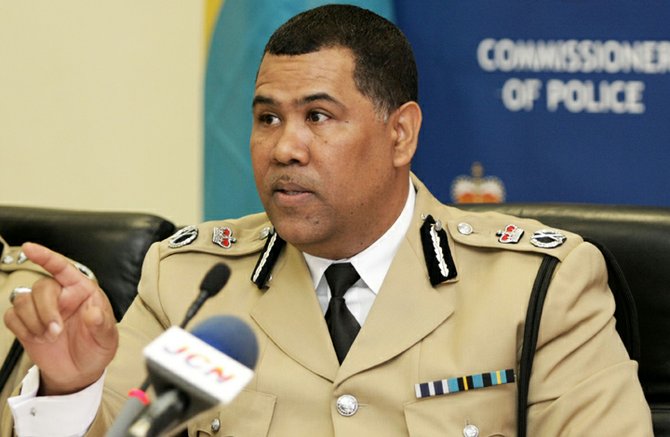 By RASHAD ROLLE
Tribune Staff Reporter
rrolle@tribunemedia.net 
EMPHASISING that "crime is down" in many categories, Police Commissioner Ellison Greenslade yesterday praised the government's recent efforts to increase requirements for applicants seeking bail. 
Although the murder rate in the country is outpacing that of last year, Mr Greenslade echoed National Security Minister Dr Bernard Nottage's recent statements in the House of Assembly about the murder rate in New Providence being down compared to this time last year. 
He added that across the country crime rates are down by double digits in almost every category. 
A day after the government passed a Bill to amend the Bail Act with the hope of lessening the number of repeat offenders given bail, Mr Greenslade said he is excited about efforts to curb crime in the country. 
"I'm hoping that any legislative changes that are made will be done to the benefit of the wider Bahamian society," he said. "We deserve a break. We need relief and I've said since I've taken office, it's a concern that people are arrested for very serious crimes – we refer to them as prolific and repeat offenders.
"We take them before a court of law and a few short weeks later we arrest those same people again in the wider community, offending in the same egregious way. I've continued to say that. I've said it much to the dismay of a lot of people. I've tried to say it respectfully, but there's no other way to say it.
"My point is, any legislation, anything that is done, anything by an authority in the Bahamas or the wider community, to cause this haemorrhaging to stop, certainly is a benefit to our country."
According to statistics tabled in the House of Assembly on Wednesday, between January 2013 and August 2014 592 people were granted bail, including 90 accused of murder, attempted murder, manslaughter, abetment, causing harm or other crimes against the person. 
While Mr Greenslade declined to put a number on how many people out on bail are suspected to be re-offenders, he admitted: "We have a lot of bad people on bail." 
"I would normally on a daily basis when they re-offend send that information on to the Minister of National Security," he said. "As recent as the shooting, the murder in Fox HIll which just occurred, I was able to send pictures and details to the minister. I'm not going to suggest any numbers to cross with what the minister would've said in the House of Assembly, I heard everything that was said. I don't object to any of that, but I'll tell you, we have lots of people, big, big numbers roaming about our country who are on bail."