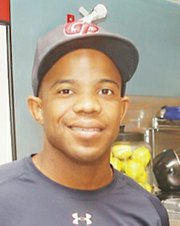 By NIKIA DEVEAUX
Bahamas Ministry of Tourism
NEW YORK CITY — The Bahamas Ministry of Tourism is looking to 'get on base' with the New York Yankees, seeking a partnership with the popular Major League Baseball (MLB) team.
The two sides recently began exploratory discussions on cobranding efforts that would expose millions of baseball fans to The Islands of The Bahamas brand.
Greg Rolle, director of sports tourism, led a team of sports representatives to New York to meet with Yankees executives on Tuesday evening.
"New York is one of our major target markets and if we can establish a relationship with the Yankees that will help us penetrate the market, it could result in a boost in our visitor numbers," Rolle said.
The Bahamas delegation also consisted of Minister of Youth, Sports, and Culture Dr Daniel Johnson, Ministry of Tourism Sports marketing executive Jeff Rodgers and Senator Greg Burrows.
According to Minister Johnson, a partnership with the Yankees would put The Islands of The Bahamas on a different playing field from competitors.
"The New York Yankees have 3.4 million people attending their games per year, and have about 25 million people in the tri-state area who are fans of the franchise. Putting the brand of The Bahamas along with the Yankees brand would give us a world- class platform to attract more visitors," Johnson said.
"New York Yankee executives' response to a partnership was very positive, very upbeat, and the possibilities are endless."
The group's main reason for travelling to New York City was to celebrate Bahamian Antoan Richardson's recent call to the Yankees. The 30-year-old centre fielder is just one of six Bahamians who have played in the major leagues.
Rolle said Richardson is now an ambassador for the country, and has the amazing opportunity to generate a lot of buzz for The Bahamas as he makes a name for himself in major league baseball.
"What Antoan did for us was open the doors to the New York Yankees for The Bahamas to come in. We may not have had this opportunity to speak directly with the Yankees executives if it wasn't for Antoan being on the team," Rolle said.
"We want him to know that we appreciate him, and The Bahamas is proud of his accomplishments."
Richardson will be recognised for his accomplishments during a special dinner hosted by Minister of Tourism Obie Wilchcombe.
The Ministry of Tourism is positioning itself to be the premier destination for sports.
MOT currently has partnerships with the Miami Heat, Miami Dolphins, Florida Panthers and International Association of Athletics Federations (IAAF).