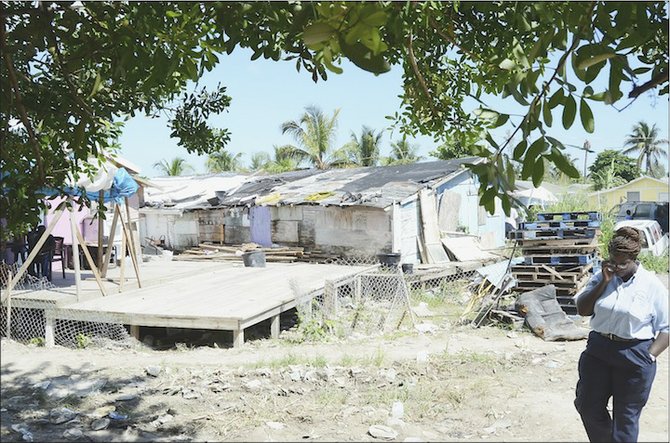 With no boat to stop the flow of illegal immigrants and no regulation of expanding shanty towns and unlicenced constructions Abaconians are doubting the government's will to tackle the island's pressing issues. Timothy Roberts reports
We suffer, as a nation, from a severe lack of execution. That is, of course, if we believe the Bahamian government actually has a plan or strategy in tackling illegal immigration and shanty towns.
While this is not a sudden realisation, this point was poignantly brought home in recent weeks in Abaco as some obvious and glaring holes were highlighted in two different circumstances.
Early in the afternoon on September 4 I received calls from multiple sources of two Haitian vessels laden with passengers on the Sea of Abaco; one, a sailing sloop slowly making its way from the Channel Cay area (south of Elbow Cay on the eastern side of Abaco) towards Snake Cay (which is attached to the mainland), the other in the area of Water Cay a few miles up the shore from Murphy Town.
Immediately I made calls to the Department of Immigration, the Royal Bahamas Defence Force (RBDF) and the Royal Bahamas Police Force (RBPF) ... and quickly received news that would shock most but to which we have become accustomed in Abaco: "We have no boat!"
It's within reason that the Department of Immigration has no boat; that is something I think we can generally accept. However, the RBDF had no boat in Abaco in general and the RBPF - well that's another story that deserves to be looked into more deeply. Suffice toi say they too had no boat operable.
Abaco, for those who are not aware, is the boating capital of The Bahamas and one of the top cruising destinations in the Caribbean. For no enforcement agency to have a working boat ready to go in case of a call is beyond unthinkable. It makes no sense and is an absolute embarrassment.
Minister of Immigration and Foreign Affairs, Fred Mitchell said that "the [Immigration] Department is resourced challenged" and noted that this is a "general state of being for our country at this time, with a number of competing challenges", so he has been ringing the bell on this for some time now.
But are resource challenges truly the crux of the issue? Is this why so few are apprehended in situations like this?
In the end Immigration reported capturing 28 Haitian nationals who were sent to Nassau's detention centre, four of whom were captured in the Snake Cay area after disembarking nearby, the rest were found in the shanty town called the Mudd, and in a "safe house" in Dundas Town – presumably a home owned by someone of Haitian descent.
Minister of Housing and the Environment, Kendred Dorsett, last year released a report on shanty towns which detailed things from an environmental standpoint and came with the promise to deal with the issues outlined.
Today, in Abaco, we continue to not only look at the same two shanty towns in Central Abaco – the Pigeon Pea and the Mudd – as well as the one in North Abaco, Sand Banks, popularised in the report as the largest shanty town in The Bahamas - but we are also seeing newer areas expanding such as one in the north known as Hidden Valley and the quickly growing population in Hope Town/Elbow Cay.
While lack of resources is a problem – as evidenced by the lack of boat and an overburdened police force that has less than 60 officers to cover 650 square miles of land and sea – there appears to be a lack of will to confront directly obvious illegalities surrounding shanty towns.
Late last month the Department of Immigration, along with the RBDF, RBPF, Ministry of Works, and the Department of Environmental Health Services went on a tour of the Pigeon Pea and Mudd shanty towns.
On the walkthrough we saw many shops, numbers houses, liquor stores, restaurants and more, as well as noting the open cesspits, electrical wires running on the ground and overhead (sometimes hung across tree branches) and garbage piled up in numerous places. Construction in these areas never stops; whether it's adding on to existing structures or building new ones.
During this walkthrough Immigration picked up three men thought to be undocumented and confiscated items from a numbers shop from which the shop owner or clerk had fled. Without denigrating the service of the officers doing their jobs, it appeared to be token action, more or less for show, because as we departed I was left with more questions than answers.
How is it that any store is permitted to be open in the Mudd, a shanty town that exists on crown land, or Pigeon Pea, private property? The absurdities abound as you wonder why take action against one shop owner when there are so many violations all around.
When questioned concerning how businesses are even able to acquire a licence in the Mudd on crown land the police said that Haitian migrants building and operating on crown land is a concern for them because they know there are a number of requirements needed in order to get a licence. "We are not sure that those requirements were met," he said.
He added that "there are a number of breaches and flaws especially in the designs of the buildings." He encourages everyone operating a business in the area without the documents to "go and seek them and let us know at the police department so we know that you are straight and all is well."
I understand the officer's position, as I am sure he must act according to the guidelines his superiors set, and that is in the end a large part of the trouble.
So where does the fault lie? It starts at the top.
For a business to be licenced the shop owner has to submit a variety of documents, including papers either showing ownership of the premises or permission to use the premises. There has to be an inspection of the facilities by the DEHS and the fire authority and a number of other requirements. It is painfully obvious, as you walk through the Mudd (which, if you recall, is crown land) or the Pigeon Pea that something is terribly wrong.
What can be the excuse for such gross oversight of glaring illegalities for so long?
Why has the government been so passive and, one can even postulate, complicit in the proliferation of shanty towns in Abaco in particular, but across the entire archipelago?
I am reminded of Mr. Mitchell's statement that the issue of shanty towns is more complex than it seems because these communities have their "protectors throughout the elite class of the country".
"The issue is that these people are actually on land owned by some and they are actually paying rent to someone, and they actually have permission to be there from state agencies," said Mr Mitchell when he was a guest on the radio talk show 'Morning Blend' with Dwight Strachan on August 15, 2012.
Under what laws and guidelines were people granted permission from "state agencies"?
How is it that the elite are apparently above the law?
Meanwhile the issues with lack of resources to combat the continual landing of Haitian boats in Abaco and the lack of ability for government agencies to carry out their legal functions in stopping and removing illegal construction continues to grow with little sign of enforcement or abatement.
We are left to wonder is the lack of execution all about lack of resources, or is there a lack of will?
• Timothy Roberts is a journalist and photographer with The Abaconian.