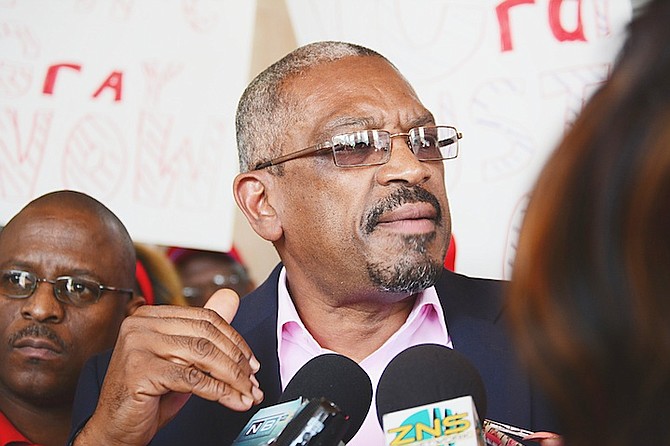 By RICARDO WELLS
Tribune Staff Reporter
rwells@tribunemedia.net
FREE National Movement Leader Dr Hubert Minnis said yesterday he has "no interest" in a public debate between the political leaders, insisting that he is "by far more interested in" unseating Prime Minister Perry Christie.
The Killarney MP said his efforts would be better served working to rid The Bahamas of an "ineffective CEO" incapable of making the "tough, but necessary decisions".
"My answer to that challenge remains the same, we have an ineffective CEO running our country. I am by far more interested in removing him than a debate," said Dr Minnis.
"They (the government) still have a lot of outstanding matters that they are running from and not discussing. Those matters need to be highlighted and addressed now."
"We are still getting conflicting reports on BAMSI contracts and insurance, they need to bring everything current and to the public," he said, referring to the Bahamas Agriculture and Marine Science Institute in North Andros.
During a recent speech at The College of the Bahamas' School of Journalism, Mr Christie implored students present to challenge him, Dr Minnis and Democratic National Alliance (DNA) Leader Branville McCartney to a public debate to determine who of the three has a better grasp on national issues.
"Bring Minnis here, bring Branville here, Christie here and say 'tell us what you believe in,' and make your judgment. Ask questions, see who has a command of the country, who understands where the country ought to be going and who could speak to those issues," Mr Christie said last week.
On Tuesday, Mr McCartney accepted the challenge for a debate and said his party would even sponsor such an event.
It was also at COB that Mr Christie, in expressing his disdain for some members of the local media, controversially said of journalists who criticise his leadership capability, "to hell with them."
Mr Christie also lashed out at calls from some in the media for him to resign. He said these critics were not in the trenches with him when he won eight consecutive elections, and stressed how grave a responsibility the media has to report truth so their audiences understand the information.
He said, "(Journalists) presume that the position they are in gives them the right to say what exists and what doesn't, but the devil is a liar and it is important for you as students to be able to have your leader's ear and don't be scared.
"Their judgment as to whether I'm doing my best, to hell with them. It's the people with the power, people whose aspirations are for a better way of life for themselves, and their children. You have the right to believe what you believe, to write what you believe. I must respect you for that. But respect me for what I'm trying to do."
Dr Minnis said yesterday that those comments illustrated the prime minister's "complete disregard" for democracy in the Bahamas.
"Christie has lost his way and is insulting everybody instead of dealing with the problems that exist within his poorly managed government. He is the CEO, the buck stops with him," Dr Minnis said.
The Christie administration has come under fire in recent months over a number of scandals.
Deputy Prime Minister and Minister of Works Philip Davis has been mired in controversy since he announced that the fire-damaged dorm at BAMSI in Andros was never insured.
Two weeks earlier Mr Davis had told the House of Assembly that the dorm's insurance had lapsed at the time of the fire due to the contractor's nonpayment.
Last week, Minister of Agriculture V Alfred Gray was relieved of his local government portfolio amid an ongoing police probe into allegations he interfered with the judicial process.