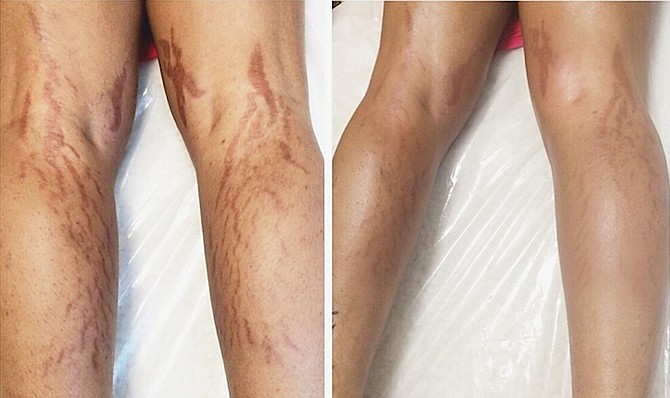 By ALESHA CADET
Tribune Features Reporter
acadet@tribunemedia.net
ONE woman's personal experience with serious skin problems has today led to the success of a Bahamian-owned beauty business which aims to help others facing similar challenges.
Kaylisa Beneby, proprietor of Flawless Mango Skin, launched her line of skin care products after sustaining skin damage which dermatologists deemed irreparable.
Designed to do exactly what the name promotes, Kaylisa hopes her beauty brand will help to diminish the appearance of acne, discolouration, uneven skin tone, cellulite, stretch marks, dead skin, eczema and much more.  
A businesswoman in the beauty field for more than 20 years, Kaylisa has always been involved in modelling and fashion-related events. However, it was Kaylisa's very own experience with her skin that led her into the skin care and health field."I got a bad case of mosquito bites that resulted in my having to see several dermatologists and hearing them say to me that my skin was damaged to the point of no return of normalcy again. Obviously I could not accept their assessment of my case so I decided to take action and started making my own skin care remedy. I not only was able to reverse the skin condition, but I was able to help so many other persons with my new-found discovery to treat their particular situation," said Kaylisa.
Flawless Mango Skin, she explained, has two product lines that consist of facial washes, facial toners and astringents, four types of facial and body scrubs, three types of masks, including a 24k gold collagen mask, a tightening powder mask and an all natural acne nourishing mask. There are also facial and body soaps that come in papaya, oatmeal, goat milk, honey and aloe.
The Grand Bahama native said her products include only the best ingredients and are loaded with vitamin C, which is an antioxidant to protect the skin and builds collagen for a more youthful appearance.
She said she is thankful to so many family members and friends who have pushed her every step of the way in achieving this entrepreneurial dream, but most of all Kaylisa is thankful to God, as her decisions are mainly based on His word and expectations of her.
She said she is supported by her parents, Wilka and Barbara Hamilton, two people who have always instilled good morals in her and always believed that she is capable of accomplishing anything she sets her mind to.
"I have to also give credit to my sisters, especially Jessica, Dannia and Joyce who walk step by step with me. They have all been a great influence to me, reminding me that to never quit in spite of the many obstacles. My children Bennae Beneby and Joshua Campo have also truly influenced me to strive and remind me that there are absolutely no limits and that God is truly our source," said Kaylisa.
With the help of these important persons in her life she said her Flawless Mango Skin has company come to a point where some clients have expressed that they cannot live without the brand, as their results are the best they have ever experienced.
Under the Flawless Mango Skin brand, Kaylisa also addresses body issues with her radio frequency non-invasive liposuction machine which targets fat cells, cellulite and stretch marks.
Additionally, the Miracle Band is a new addition to the company.
"This band not only slims the waistline but it was designed to eliminate all types of pain including arthritis, back, stomach, legs and pain in the knees. It promotes proper blood circulation, knocks fatigue out of the body and speeds up your metabolism," she said.
Kaylisa said she enjoys making persons feel satisfied with their results. She appreciates it when they can stand tall with confidence because they have flawless skin.
"I have always had a passion for enhancing and beautifying people. I have seen so many persons struggle with so many skin issues, and after discovering solutions that worked for me I thought this would be the best suited profession. My overall goal is to see my company become an international household name that has the best reputation that any skin care company could possibly obtain," she said.
For more information, readers can contact 442-0606 or visit the company's Facebook page at Flawless Mango Skin or Flawless Skin by Kaylisa.