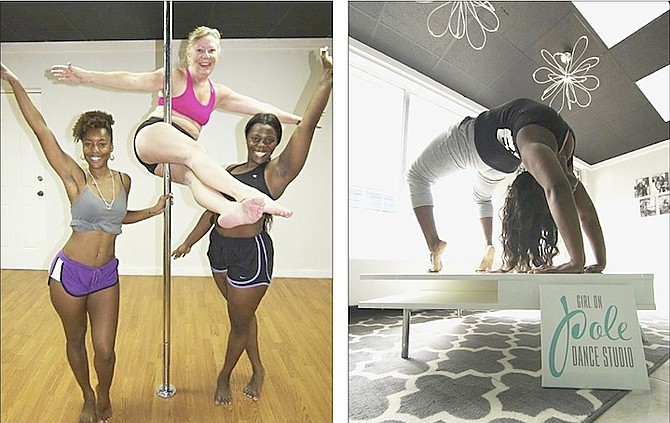 By ALESHA CADET
Tribune Features Reporter
acadet@tribunemedia.net
HER goal is to not change people's perceptions of pole dancing, it is simply to teach it as a form of fitness art.
Leaving her previous job in the field of marketing, Raphaleta "Raphy" Adderley recently took the plunge and decided to pursue her passion as a certified pole instructor.
The results of Raphy's hard work came to fruition with the opening of her very own pole dance studio, Girl On Pole located on Dowdeswell Street, in February. With more than 5,900 followers on the company's Facebook page, Girl On Pole has become one of Nassau's top, not to mention unique, go-to places for workout sessions.
The studio offers 'Pole'etics', a style that normally tells a story and focuses on flow and body movement; pole fitness, which is best suited for a high-impact workout regiment; fixation, a style that is extremely sensual and erotic, and raw, a style that is approached in a highly seductive manner. The studio, Raphy said, is also where pole poses, tricks and techniques are taught in a professional and safe way.
Raphy's initial inspiration for pole dancing came from her desire to lose weight and trying to find different ways to reach this goal.
"I was always on a weight loss journey. I wasn't really overweight, weighing 200 plus pounds. I was lazy, I didn't want to run and jog, so two years I said I really want to be healthier and I wanted to find something that was my fit. I started venturing out and I went on this trip to Atlanta where I took a pole class. I was naturally good at it. I didn't expect for it to be a workout, I thought it was just a sexy taboo thing, but I learned it was an actual dance class where we did warm-ups, concentrated on flexibility and so much more," she said.
After returning to the Bahamas, Raphy was motivated to dedicate an entire pole room in her house to pole dancing. She took her dining area and renovated it into a space for her new hobby.
"I got better at it and started posting pictures on social media. People would ask if I can teach them, but I would tell them I am not a teacher really," she said.
"They would still come for lessons and it started from there. I later attended a Pole Convention class in 2012 (in Los Angeles) where I trained with people from all around the world and it was fun."
It was at that Pole Convention where Raphy became certified as an instructor. She describes the feeling as nothing short of amazing.
"With pole, you kind of get a bang for your buck. It's like cardio with weight lifting, doing it all with confidence and strength. I don't think any other sport gives you that. I think that is what's most fascinating to me, going in the gym for so long and not seeing one particular muscle improvement and going on a pole for like a week and you can already see a change in your body," said Raphy.
To watch people grow and experience something new, is a great feeling for Raphy in her new role as pole instructor.
"This is something new. Bahamians don't know much about it, and just the fact that they are here and they try it, I like to see their expressions. When I start my classes with stretching and warm-ups they are like, 'Oh, were are stretching, too'. They come with the attitude that they just want to pole dance. Then I have to explain that we have to do this because we have to elevate our body temperature and warm up before actually getting on the pole," said Raphy.
Travelling to pole studios all over the world, even as far as Milan, Italy, Raphy said she has seen how pole exercises can relax a person. It also makes a person feel confident, she added.
While there are people that disagree with pole dancing as a form of fitness, as they compare the techniques to stripping, Raphy said she encourages people to remain open-minded.
"It's like people love it, but they don't like it. Everybody loves the idea of being on a pole, women and men. Some men they feel if a stripper would do that, why would I want my wife or daughter to do that, but some men would go to a bar and watch a woman swing from a pole though, so you like it, but you don't like it. Same thing with some women. They don't think they should be pole dancing because they aren't strippers, but after learning more about it they see that pole dancing has nothing to do with being a stripper," said Raphy.