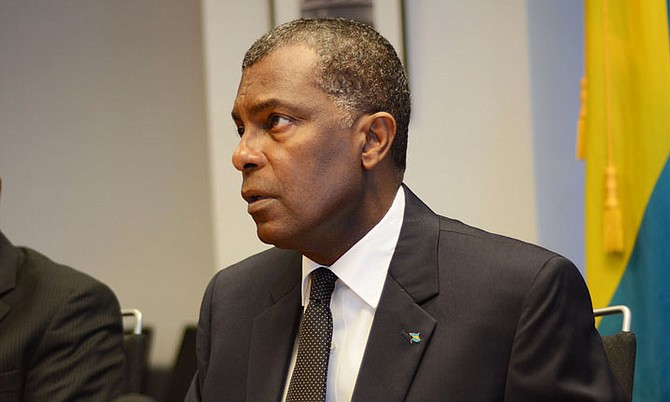 By RASHAD ROLLE
Tribune Staff Reporter
rrolle@tribunemedia.net
IMMIGRATION Minister Fred Mitchell is considering recommending that a reward system be established to pay Bahamians who provide authorities with valuable information about the "smuggling rings" that spur illegal immigration.
His comment came as he updated the press yesterday about recent immigration interceptions within the last week.
As he has done in the past, Mr Mitchell stressed that all Bahamians must help the government clamp down on the "criminal enterprise" that he said allows illegal immigration to flourish.
"We've been dealing over the last week with a deluge of illegal migrants who have breached our borders and we're working to expedite their immediate return to Haiti," he said. "Last week, 10 people were intercepted in Inagua and are being processed for a return. In Bimini, late Wednesday evening, on April 15, 168 people were intercepted by the Royal Bahamas Defence Force and they were brought to Nassau on April 17 by the Royal Bahamas Defence Force vessel Durward Knowles. Of the 168 people there are 103 males, 28 females and 37 children. Children are being kept in safe houses and we're trying to get them out as early as tomorrow morning, the women and children.
"The interesting thing about this is some of the children were actually babes in arms, this is now a new dimension to this problem. And the reason why I wanted to address this is those of you have been watching the international news would know that sadly 650 people died in the Mediterranean sea trying to get to Italy so this migrant issue is just going completely out of control. We continue to believe that this is being driven by a criminal enterprise."
He added: "Our intelligence worked quite well this time because we were aware that this ship was coming and the defence force has been tracking it and we were able to intercept it and there is additional intelligence because usually these don't come just by themselves, particularly in and around Abaco and I just want to make sure the Bahamian public is aware this fight is continuing and we are dealing with it as best as we can. We believe that because the Royal Bahamas Defence Force has the place so hot so to speak around the usual areas that they were trying to drift around to find a spot. We're working with our American friends. We are intensifying our checks within neighbourhoods in New Providence and the islands. What we suspect is that there has been a shift to smaller boats. Our US friends have been saying that increasingly they're finding that the boats with four, five small numbers, but they're hitting the shores of the United States."
"This is again why I say to these people who are trying to stop the forward movement of the programmes we are putting in place are willingly or unwillingly protecting a criminal enterprise which we must interrupt and stop," Mr Mitchell said. "I urge all Bahamians to support the policy, to be watchful. I am even thinking of suggesting to my colleagues that we need to put in place a reward system so that people who spot this kind of activity are able to get a reward if it leads to breaking up these smuggling rings but that's where we are now. We have to get on top of this problem. It's a national security issue. The country cannot be seen as a staging ground for people going and doing illegal things in other people's countries."
In a press statement released yesterday, RBDF officials noted that two suspicious vessels were intercepted near Eleuthera on Saturday by crew members of HMBS Durward Knowles. As a consequence, four undocumented passengers were found along with discrepancies with ownership of the vessels.
The two vessels were subsequently taken to Nassau.
The RBDF said one Haitian was admitted to the Carmichael Road Detention Centre. Investigations are continuing.