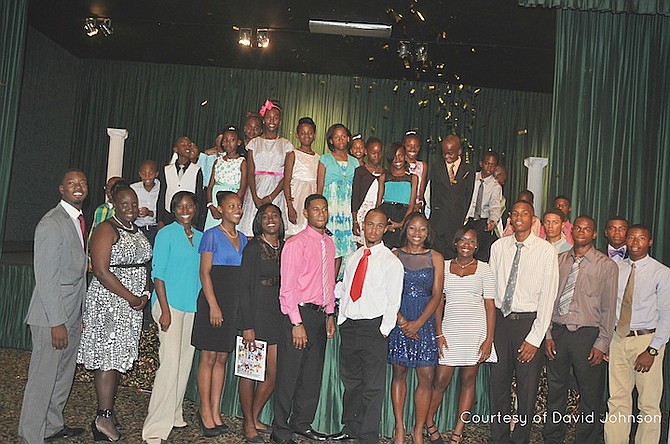 SANDWICHED between the Bahamas Junkanoo Carnival and the 20 Pearls awards ceremonies was the much anticipated scholastic event of the year, the Grand Bahama Sports.com Scholar Athlete of the Year Awards and scholarship dinner.
High school and primary sports, teams and athletes were all celebrated at the 2015 Scholarship Dinner at Hilton Outten Convention Centre on Sunday.
The nominees were joined by family, coaches and teachers in the sold-out centre for dinner and a year-end highlight reel presented by Grand Bahama Sports.com/GBBTV/Weebly.com.
Each student athlete was recognised for their outstanding academic and athletic achievements.
Wilbert Stubbs hosted the inaugural annual event. Tossing in some humour, he had some good jokes and wasn't afraid to lay into some of the athletes and guests inside the centre.
Gabrielle Laing was smooth and confident as the announcer. There were some emotional moments too. Buster Laing, founder of Grand Bahama Sports, asked for a moment of silence for the late Sandra Edgecombe, deputy director of education.
"Some names we may forget but, one name, it would be very remiss of me not to mention Sandra Edgecombe, who advocated having the awards to honour students who have excelled in academics and athletics but who may be challenged economically." 
The announcement of the 2014-2015 Scholar Athletes of the Year was the highlight of the event.
• Scholar athlete winners are as follows:
Primary School Female Scholar Athlete of the Year - Cassidra Thompson (Lewis Yard)
Primary School Male Scholar Athlete of the Year - Adari Grant (Sunland Baptist)
High School Female Scholar Athlete of the Year - Satori Curry (Eight Mile Rock)
High School Male Scholar Athlete of the Year - Angelo Dames (Jack Hayward)
About the Award
The Scholar-Athlete Programme will annually recognise two high school and primary seniors – one boy and one girl – from each member high school whose academic and athletic careers have been exemplary.
Nominated by their schools, which are limited to one nominee each, candidates must be a senior or graduate student in their final year of eligibility, have a grade point average of at least 2.75 on a 4.0 scale or 70 per cent and participate in at least two core sports.
The two high school winners each received a $1,000 scholarship. A primary school boy and girl received $750 each.