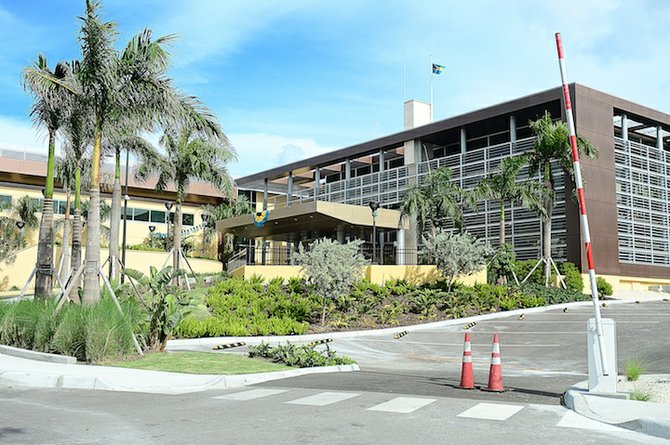 By KHRISNA VIRGIL
Tribune Staff Reporter
kvirgil@tribunemedia.net
WHILE the $100m Critical Care Block at the Princess Margaret Hospital was commissioned more than three months ago, three of its seven operating theatres were just opened and used for the first time last week, Public Hospital's Authority Managing Director Herbert Brown confirmed yesterday.
This delay was because of complications with the balance of gases used to put patients to sleep who are scheduled to undergo surgical procedures, Health Minister Dr Perry Gomez said during a brief interview with The Tribune. He added that officials had for some time been waiting for test results before patients could be safely operated on in the theatres.
However, Mr Brown told The Tribune that it was never the plan for the CCB to open with all seven of its theatres in full operation. He said officials have always planned for a phased opening. A total of 70 people have already received surgeries since the theatres opened last Monday, with 25 of them being emergency cases, The Tribune was told.
Mr Brown said: "The transitioning of the operating theatres from the old location to the new Critical Care Block went as planned on Monday, April 20. Three of the theatres are fully operational and I must tell you that it was never the plan to open the seven of them all at the same time.
"They are moving from one part that is extremely old into a part that is extremely modern. This is not only good for the staff morale, but for patients who should have the best in health care.
"The others will be transitioned into the new block over a period of time."
Mr Brown declined to give a timeframe for this undertaking. He said that if officials wanted use all of the theatres today they could.
Last month, Mr Brown confirmed that the government planned to spend $5m to hire about 200 medical staff from The Bahamas and abroad to work in the Critical Care Block.
The CCB previously faced severe opening delays mainly due to staffing and equipment challenges. It was formally commissioned in January although it was initially expected to have a 2013 completion date.
Hospital officials have also announced major renovations to the Maternity Ward at PMH with plans to add an additional 18 to 20 beds to the existing 37. Two operating theatres also will be specifically dedicated to maternal care.
It is anticipated that this will be completed by the end of May.
Dr Gomez has said the work is in preparation for the implementation of National Health Insurance. The government plans to roll out the first phase in January 2016.