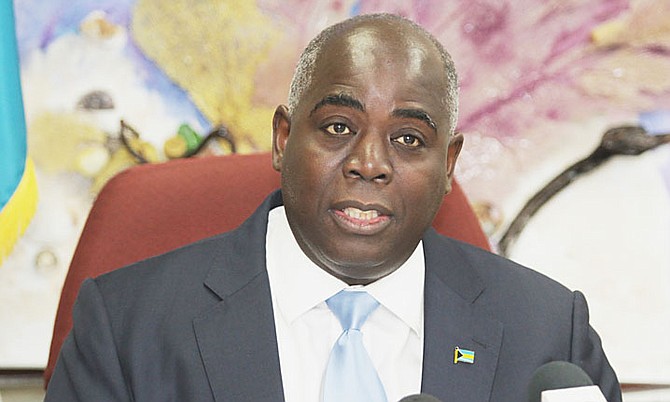 By KHRISNA VIRGIL
Tribune Staff Reporter
kvirgil@tribunemedia.net
MINISTER of Works Philip "Brave" Davis yesterday contradicted Bahamas Electricity Corporation Executive Chairman Leslie Miller who has insisted that the power supply needed for the upcoming International Association of Athletics Federation World Relays at the National Stadium would plunge the remainder of the island into darkness this weekend.
However, Mr Davis who has BEC in his portfolio, disagreed with Mr Miller saying the two-day relays will not affect the electricity supply to thousands of customers on the island.
The relays will be held on May 2-3. Scores of athletes have already arrived in the capital in preparation for what is said to be the largest sporting event to ever be held in the country. Last year was the first time The Bahamas hosted the event.
The conflicting statements came after thousands of residents were left without power, some for more than five hours on Monday after engine failures at both the Blue Hills and Clifton Pier stations.
The power cuts also continued intermittently on Tuesday.
"First of all, the historic challenges in terms of generation plans at Clifton and Blue Hills has caught up with us and we are now trying to address that as quickly as we can, and the load shedding is occurring now is as a result of that fact," Mr Davis told reporters outside the House of Assembly.
"The IAAF relays on this weekend will not in any way compromise the services to the whole island as is planned. Hopefully if all things go well, we will be able to not have to load shed as widespread as we have been doing."
On Tuesday, Mr Miller told a reporter that there would likely be power cuts across New Providence to provide the needed electricity for the relays and avoid "embarrassment".
He said the corporation would do what it takes to ensure that the load shedding exercises, that he has warned could stretch into next week, does not affect the relays.
Mr Miller has told The Tribune that BEC is asking consumers to bear with them during this "very serious crisis".
He was also quoted during an NB12 interview on Tuesday night that some homes would have to go without power to ensure the World Relays event at the weekend would have electricity, saying: "We cannot have an embarrassment with an international event of this calibre".
A statement released by BEC on Tuesday said temporary generator units supplied by Aggreko, an international company, should be installed and operational within the next four weeks. An initial five megawatts of Aggreko temporary units should be on island within the next few days, the statement added.
BEC has maintained the power grid is strained because of unusually high temperatures this month, leading people to use more electricity.
Officials said Monday's power cuts began after an electrical fault developed on its transmission system.
BEC said an investigation is underway to correct the problems that caused the transmission fault.