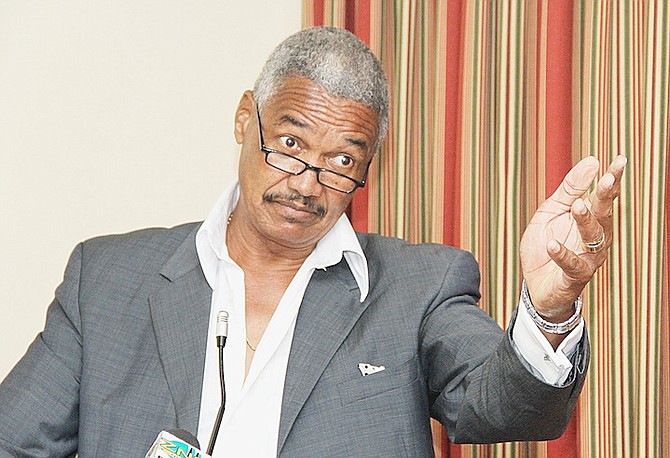 By SANCHESKA BROWN
Tribune Staff Reporter
sbrown@tribunemedia.net
OUTGOING Executive Chairman Leslie Miler said he expects this week will be his last at the Bahamas Electricity Corporation as a new board is to be installed on Friday.
Speaking with The Tribune, Mr Miller said as far as he knows a new board has not been chosen but he will be "happy to be gone and return to Harrold Road."
Last week, Deputy Prime Minister Philip "Brave" Davis said he is hopeful that the new board of directors for BEC would be named this week.
"They will probably have a big party when I leave because the staff, especially the union, will be happy I am gone so they could do whatever the hell they want," Mr Miller said.
"This week everything will be sorted out and I won't be at BEC anymore. By the end of the week a new board will be named and I will not be here. So I am going to spend my last week, preparing the building for the renaming and tiding up some stuff. What I should do is give everyone 10 per cent off their bills, but I can't. I would if I could though. I know one thing; the board was shown no respect during this whole thing. PowerSecure never even met with us, all the work we did for this place and they are treating us like garbage."
When asked if he was invited to join another government board, Mr Miller said: "No they haven't asked me anything but I don't mind returning to Harrold Road (where he has a family owned business), I have things I can do."
Two weeks ago, Mr Miller insisted that he would leave the corporation "when I want to leave BEC."
He said while the time frame for leaving the corporation was left up to him by Prime Minister Perry Christie, he had decided to leave after the renaming of BEC's main building after former general manager Peter Bethel.
At that time, Mr Miller said the renaming and preparations should take about three weeks.
He made his statements hours after the government signed a Transition Services Agreement with American company PowerSecure for management of BEC.
Mr Miller has also said he hoped the new company would be able to curtail the culture of "slackness" that exists at BEC.