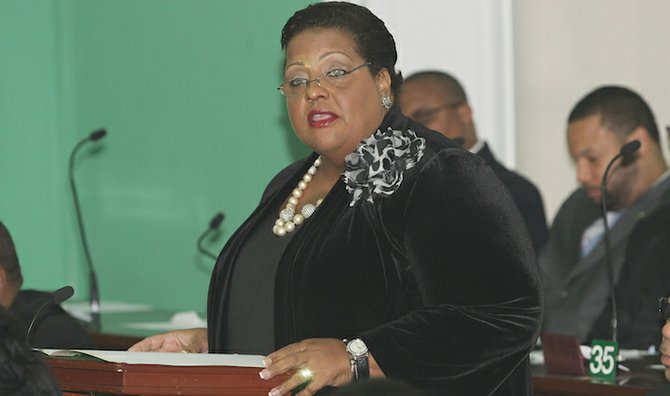 By AVA TURNQUEST
Tribune Chief Reporter
aturnquest@tribunemedia.net
LONG Island MP Loretta Butler-Turner yesterday called on Prime Minister Perry Christie to make his Cabinet ministers retract their "extremist" statements against Baha Mar developer Sarkis Izmirlian or resign.
Mrs Butler-Turner said the revelation that Mr Christie did not sanction comments made last week by Foreign Affairs and Immigration Minister Fred Mitchell and Minister of Labour Shane Gibson indicated that the nation's leader was not respected and too weak to "rein in" his "out of control" Cabinet.
In a statement yesterday, she said it was "nonsensical" for Mr Christie to suggest that the senior ministers were speaking in their personal capacity on such a high-profile issue. She added that their actions demonstrated his party's contempt for the country's system of governance.
"Collective responsibility is a cornerstone of our system of Cabinet government," she said. "It is now being supplanted by selective responsibility in which ministers can say whatever they want in an out of control Cabinet with a prime minister too weak to rein in his ministers.
"Various members of Mr Christie's Cabinet clearly have little fear of facing the consequences of their actions from a prime minister whose office they no longer seem to respect. It appears that the extremists in Mr Christie's Cabinet are now in charge with the prime minister being effectively sidelined."
Mr Mitchell has repeatedly chastised Mr Izmirlian both locally and internationally over the resort's Chapter 11 bankruptcy filing, and what he termed as numerous "attacks" on Mr Christie's handling of the Baha Mar debacle.
Last week, Mr Mitchell warned the developer that his permanent residency status could be revoked, and suggested that Mr Izmirlian consider living elsewhere if he could not conform to the expected conduct of "economic guests."
Mr Gibson has defended Mr Mitchell's warning and suggested that the government should now begin performing "psychological evaluations" on all foreign developers seeking to do business in this country.
Mr Christie has since explained that the comments by two of his Cabinet ministers are not the position of the government. He said he accepted their remarks as personal and emotionally motivated, adding he was not forewarned that the ministers were going to say what they did.
Yesterday, Mrs Butler-Turner said that under British ministerial code, government ministers were barred from speaking in their personal capacity on public affairs, and should ensure that their statements are consistent with collective government policy at all times.
The Bahamas' system of government is based on the United Kingdom's Westminster model.
Pointing to the UK's Cabinet Manual, she added that ministers should resign when they are unable to continue to accept collective responsibility.
She argued that there was "no such latitude" for Mr Gibson and Mr Mitchell within the Westminster system to speak in extreme terms about Mr Izmirlian in their personal capacity.
Mrs Butler-Turner said: "Prime Minister Perry Christie's recent nonsensical statement claiming that Minister Gibson and Minister Mitchell were speaking for themselves and not the government on a matter relating to a foreign investor is yet another example of the PLP's contempt for certain constitutional practices and democratic traditions in general and collective responsibility in particular.
"With the prime minister publicly stating that neither Mitchell nor Gibson spoke for the government, certain consequences must follow."
She added: "He cannot simply seek to distance himself from his ministerial colleagues. They should be made to retract various statements, resign or be fired."
Last week, in a letter to Baha Mar staff, Mr Izmirlian lamented that in his 13 years working on the project he never imagined that he would be "fighting" with the government. He added that the project had been "usurped" for political reasons.
The resort CEO has been at odds with the Christie administration since Baha Mar and its affiliated companies filed for Chapter 11 bankruptcy in a US court on June 29.
Mr Christie has said the move came "without notice" to the government.