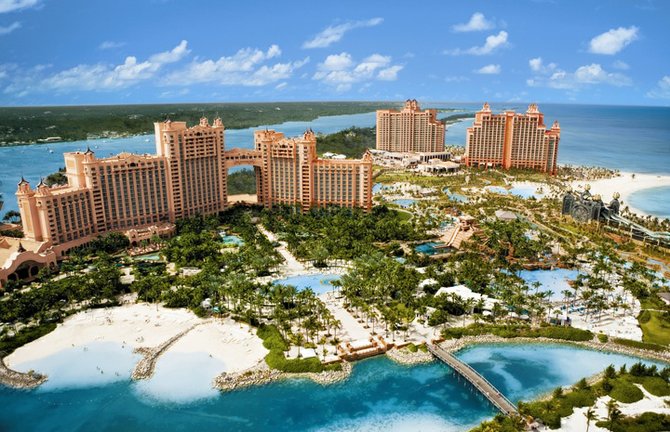 By RICARDO WELLS
Tribune Staff Reporter
LABOUR Minister Shane Gibson yesterday said suggestions that the new national minimum wage could have a negative effect on the Atlantis resort's ability to maintain its workforce were "unfortunate".
Yesterday, The Tribune reported that there is some suggestion that the leading resort on Paradise Island might consider job reductions in the wake of a 40 per cent hike in the minimum wage.
A senior source told The Tribune that the new $210 wage rate for the private sector was not being "favourably received" due to its effect on the company's profitability and capacity to compete.
Mr Gibson said despite being "concerned" about the report, he nor the government can tell a company how to run its business.
However, he said he remains hopeful that the Atlantis resort can make "certain adjustments" to prevent lay-offs at the Paradise Island property.
"Back in 2002, when minimum wage (was first introduced), if you look at the rates back then and what they charge now, they (Atlantis) made certain adjustments," said Mr Gibson.
He added that the National Tripartite Council, which presented a figure for a minimum wage increase to the government earlier this year, had a representative from the private sector.
"The Chamber of Commerce, who represented the employers at the negotiation table, took their concerns into consideration and still agreed that this was the right way to go," he said.
The new national minimum wage took effect on Saturday and brought private sector minimum wage in line with that of the public sector.
Earlier this week, the hotel source said "adjustments" would have to be made at Atlantis in light of the wage increase. When asked if this included potential job losses, the source said it is a possibility.
"You can be assured that we will not continue to bear these costs. We will make adjustments where we have to," the source, who did not want to be identified, stated.
"There was no conciliation with respect to the minimum wage increase. You would think that tipped positions would have been excluded from this newest tax on businesses.
"How does someone making $40,000 a year fall into the minimum wage employee category when there are mandatory gratuities attached?"
The source explained that while the resort can pass expenses related to value added tax (VAT) to customers, it was in no position to do so with every other cost thrown at it and stay competitive.
"This is just crazy mathematics," the source said. "We will take whatever measures are necessary to sustain our business, however painful those measures may be."
The government has stated that the increase took into consideration advice from local stakeholders as well as advice from the International Labour Organisation (ILO) and International Organisation of Employers (IEO), the Inter-American Bank and CARICOM state officials.
Mr Gibson last month dismissed concerns that an increase in the minimum wage will lead to higher levels of unemployment.