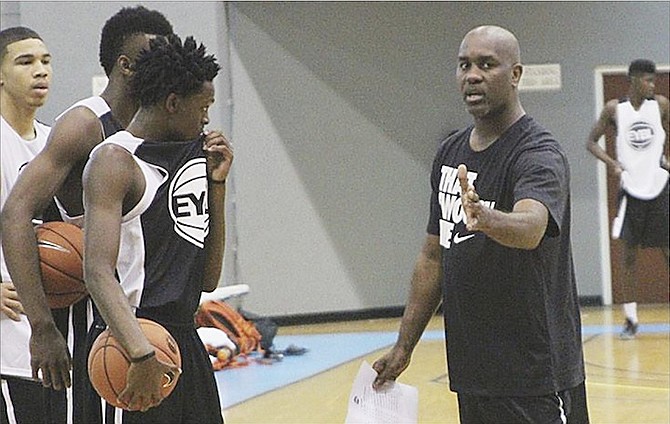 By RENALDO DORSETT
Sports Reporter
rdorsett@tribunemedia.net
The Bahamas is hosting some of the best high school seniors and underclassmen in America at the Bahamas edition of the Nike Elite Youth Basketball League Camp.
The Nike roster is led by three likely NCAA "one and done prospects," including Harry Giles, one of the 11 players to take part in day one of the camp yesterday at the Kendal Isaacs Gymnasium.
Giles, the 6'10" prospect out of Oak Hill Academy, is top ranked for the class of 2016 on the ESPN 100 and has received offers from Duke, Kansas, Kentucky, North Carolina, Ohio State, Syracuse, UNLV and Wake Forest.
"The first session was fun just trying to get the jet-lag off and run up and down a little bit," he said. "The Bahamas is fun, it's a beautiful place. This is my first time so I'm ready to learn and have some fun too at the same time."
The North Carolina native has narrowed his eagerly anticipated search to five schools.
He will visit Wake Forest September 19-21 and North Carolina from the 25th-27th. In October, he'll visit Kansas from the 10th-12th, Kentucky from the 16th-18th and, finally, Duke, from October 31st through November 2nd.
Giles called the trip to the Bahamas a welcome break from the recruitment media circus.
"It's good to just come out here and compete, not having to talk to people back home, coaches, people you know and reporters hitting you up all the time asking you about recruiting," he said.
"It's good to just come out here with my boys and at the same time doing what we love to do and just having fun so it's definitely a blessing."
Jayson Tatum and Malik Monk are also "one and done" athletes on their path.
Tatum, the 6'8" small forward from Chaminade Collge Prep, is ranked second in the class of 2016 and has already committed to Duke.
Monk is a 6'3" guard from Bentonville High who is ranked fifth in the 2016 class and has received offers from Kentucky, North Carolina, Florida, Kansas, Iowa State, Baylor, Arkansas and Oregon.
The roster will also include several ranked members of the 2016 class, including No.7 Miles Bridges out of Huntington Prep, No.10 De'Aaron Fox out of Cypress Lakes and No.12 Jonathan Isaac out of IMG Academy.
A loaded 2017 class is headed by the Bahamas' very own DeAndre Ayton, who will be competing at the Under Armour event in New York, however Nike has successfully lured five other members of the top 25.
The Nike roster includes No. 2 Michael Porter (Father Tolton), No. 3 Jarred Vanderbilt (Victory Prep), No.4 Wendell Carter (Pace Academy), No. 8 Gary Trent Jr (Apple Valley), No.10 Mohamed Bamba (Westtown) and No.22 Trae Young (Norman High).
Giles said the trip to the Bahamas also gives him an opportunity to bond with the group of players.
"I just want to grow and learn from players like Gary Payton, Brian Shaw and the other coaches. I know they know a lot. Coach [Shaw] played 15 years and Gary is a Hall of Famer so it's a blessing to learn the things they know and just try to become a better player," he said.
"It's great to have a chance to bond. I already have a relationship with Jayson [Tatum] and Miles [Monk] and just trying to get a feel for the young boys in the 2017 Class. I see them all the time, play against them but now get a chance to build a personal relationship with them. Teach them things coming up because they have a whole junior year, senior year coming up and one more year of AAU, so they have a lot to go through. I let them know if they want to ask me anything they can."
The training camp will culminate with a game against a Bahamian under-19 select squad at the Kendal Isaacs Gymnasium on August 22.
"I'm used to playing international ball, it's fun, I love it," he said. "I put three years in with team USA. Just to play against the Bahamas it'll be fun, I'm just trying to get out there and go compete. I can't wait to see what the Bahamas is like."