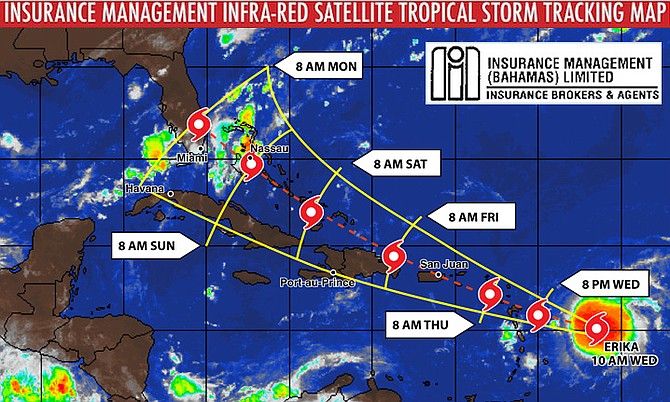 By SANCHESKA BROWN
Tribune Staff Reporter
sbrown@tribunemedia.net
TROPICAL Storm Erika is expected to dump four to eight inches of rain as it passes over The Bahamas this weekend, according to meteorologist Wayne Neely.
Erika, the fifth named storm of the 2015 Atlantic hurricane season, is also predicted to strengthen into a Category 1 hurricane by the time it reaches the southeast islands – Acklins, Crooked Island and Inagua – early on Saturday morning.
The storm is not expected to affect New Providence directly, but forecasters have warned that the capital could experience tropical force or hurricane force winds.
Mr Neely, an experienced Bahamian forecaster after 24 years at the Department of Meteorology, said residents also should brace themselves for severe flooding and thunderstorms as it is expected to rain until next Monday. Several communities of New Providence began to flood yesterday.
The College of the Bahamas closed its Oakes Field Campus after water seeped under classroom doors and students reported having to "wade through water" to get to their classes.
For the next couple of days, Mr Neely said Tropical Storm Erika will be moving into an environment with some vertical wind shear and some dry air – both general inhibitors for tropical cyclone intensification.
"This means that it should be a Category 1 hurricane by the time it comes to the Bahamas around 8am Saturday. It is a fast moving storm and should be out of the area by Monday or Tuesday," Mr Neely said.
"By 8am (Saturday) Acklins, Crooked Island, Inagua and Turks and Caicos will get the full impact of the storm and on Sunday it will pass over Eleuthera. So we are asking residents to continue to monitor the progress of this storm. It will bring heavy showers and thunderstorms starting early Saturday and lasting until Tuesday.
"In New Providence, although the storm will not pass directly over us, the capital will experience tropical force winds and even hurricane force winds from the system. So all residents should be on alert," Mr Neely warned.
Mr Neely said forecasters' main concern at this point is the heavy rain expected from Erika compounded with showers from another passing system, adding that there will be "serious flooding" in low lying areas.
"In the past 24 hours, there have already been 4.74 inches of rain in New Providence. Then the remnants of Hurricane Danny will bring more storms on Thursday and Friday and then Erika on Sunday, so we will not catch a break.
"Residents throughout the Bahamas should take the necessary precautions to minimise property damage and drive with extreme caution and care," Mr Neely said.
Computer models have been mixed on Erika's future, with one predicting it will dissipate in five days while others warn that it will become a relatively strong hurricane.
The National Hurricane Centre follows a middle path between the models, predicting that Erika will become a Category 1 hurricane by Saturday with winds reaching 80 mph on Sunday over the Bahamas and off the east coast of Florida.
Last night, Erika was heading towards the Leeward Islands with maximum sustained winds of 45mph. It was 650 miles east of the Leeward Islands and moving west at 20 mph.
Tropical storm watches have been issued for portions of the Leeward Islands including Montserrat, Antigua, Barbuda, St Kitts and Nevis, Anguilla, Saba, St Eustatius, St Maarten, Guadeloupe, St Martin, and St Barthelemy. A tropical storm watch means tropical storm conditions are possible within 48 hours.