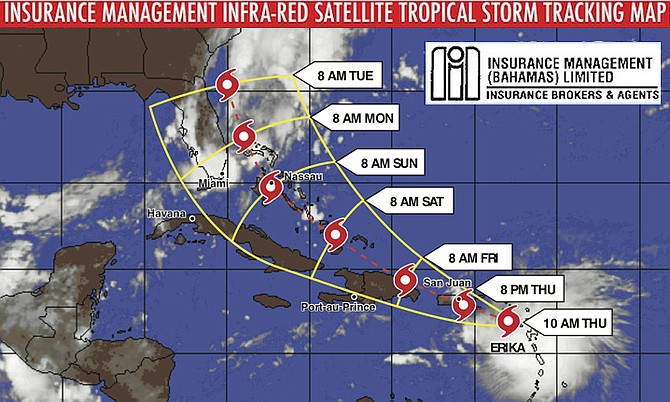 UPDATE: The Department of Education has advised that due to Tropical Storm Erika, the opening of school has been delayed. All public schools will be closed on Monday, August 31st and Tuesday, September 1st, 2015.
• All administrators, teachers and custodial staff should report for duty on Wednesday, 2nd September.
• All 7th and 10th graders attending Junior and Senior High School respectively for the first time will report to school on Thursday, 3rd September for orientation.
• All 8th and 11th graders will report to school for orientation on Friday, 4th September.
• All preschool, primary, junior and senior high school students will report to school for the first official day on Monday, 7th September, 2015.
By SANCHESKA BROWN
Tribune Staff Reporter
sbrown@tribunemedia.net
TROPICAL Storm Erika has shifted to the east and is now expected to pass directly over New Providence on Sunday, according to Meteorologist Wayne Neely.
Mr Neely said the new projected path of Erika puts the storm right on top of New Providence at about 2pm. Residents in the capital are being advised to secure their properties for tropical storm conditions and possible hurricane conditions.
Yesterday, a tropical storm watch was placed on the islands of Inagua, Mayaguana, Acklins, Crooked Island, Ragged Island and the nearby Turks and Caicos Islands.
A tropical storm watch means that tropical storm conditions can be experienced in those areas within 48 hours.
A tropical storm alert is now in effect in the central Bahamas, including Exuma, Cat Island, San Salvador and Rum Cay.
An alert means that hurricane conditions can impact the mentioned islands within 60 hours.
Mr Neely said on its current track, Erika will move near the Bahamas and the Turks and Caicos Islands on Friday afternoon.
Because of the storm, Bahamasair has cancelled all flights to Long Island, Acklins, Crooked Island and Exuma this Saturday and Sunday.
All other flights will operate as usual until further notice.
"Things have changed and the storm has shifted further east which means it is projected to pass directly over New Providence on Sunday. Which means we could experience 39 mph to 75 mph winds. This will be the first storm to directly hit the capital since Michelle in 2001 and prior to that the hurricane of 1929," Mr Neely told The Tribune.
"Normally New Providence is very sheltered but it seems the storm will come right here but that could change between now and Sunday so we will continue to monitor it. Erika is expected to produce three to five inches of rain, combined with the rain expected from the remnants of (Tropical Storm) Danny on Thursday and Friday and New Providence will be flooded."
Tropical Storm Erika is currently centred nearly 200 miles east of the Lesser Antilles and is moving quickly westward at 17 mph.
For the next couple of days, Erika will be moving into an environment with vertical wind shear and dry air, both general inhibitors for tropical cyclone intensification, according to the National Hurricane Centre.
After skirting through the Bahamas, the storm is expected to approach the United States as a category one hurricane.
Officials from the Bahamas Electricity Corporation said yesterday they are preparing for the impact of the storm on all of their operations countrywide. In a statement, BEC said power might be shut off as a precautionary measure in the event of heavy wind and rain.
"During the storm, we monitor all of our systems across the country. In the Family Islands, if conditions deteriorate to the point that it is impacting the power lines, we may shut down the system to minimize damage. In New Providence, our intention is to keep our entire system operational as long as possible. In the event that heavy winds and rain impact our overhead lines then we may have to conduct isolated shutdowns in certain areas," the statement said.
If you need to report an electricity supply concern, BEC's hotline numbers are 302-1800 or 323-5561 in New Providence. Family Island customers should contact their local BEC office. Customers are encouraged to provide their name, phone number, and location and also give a brief account of the problem.