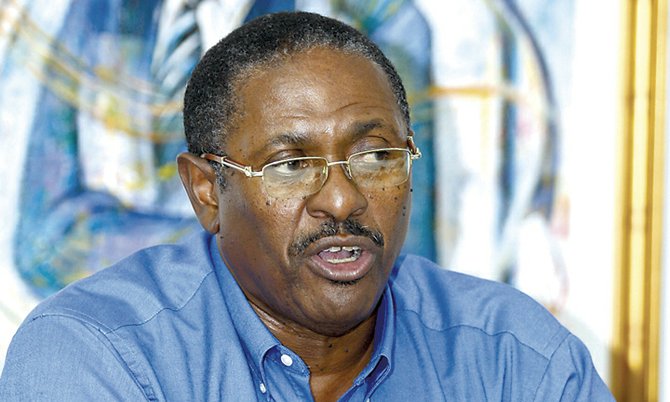 By KHRISNA VIRGIL
Tribune Staff Reporter
kvirgil@tribunemedia.net
PLP Chairman Bradley Roberts blasted FNM Leader Dr Hubert Minnis yesterday saying the Killarney MP had very little understanding of the concept of leadership.
Mr Roberts again echoed calls for Dr Minnis to lead by example and face judgment over conflicts of interest allegations that have resurfaced over the past few weeks.
These allegations involve a company called Leechez Investments Ltd - in which Dr Minnis has shares – being awarded a contract with the Public Hospitals Authority (PHA) for lease of its Stat Care building.
While the contract was awarded before Dr Minnis entered politics in 2007, the contract continued while he was health minister, and still exists today. Mr Roberts has alleged that Dr Minnis did not disclose the contract when he nominated himself as an election candidate in 2007.
However, Dr Minnis has said he did not have to disclose the connection on his nomination form because the contract with the government was not with him, but with his company.
"Dr Minnis was again in the media recently talking about leadership; who is strong and who is weak in leading his organisation," Mr Roberts said in a press statement.
"He also indicated that he would introduce anti-corruption legislation should he become prime minister. I offer some unsolicited advice to Dr Minnis on this question of leadership, a subject he seems so fascinated with, but consistently demonstrates such little understanding of.
"His dismal record is shamefully clear so the next time Minnis opens his mouth to talk about leadership, I urge Bahamians to do three things: to LOL (laugh out loud), BOL (burst out laughing), or KML (kill myself laughing)," Mr Roberts said, using the acronyms commonly used on social media and electronic communication.
Last week, Dr Minnis called Prime Minister Perry Christie a "weak, confused leader" who has no control over his Cabinet and is "not fit to run this country".
He made the statement after Tourism Minister Obie Wilchcombe commented on the ongoing Baha Mar saga urging the government to drop its winding up petition and return to the negotiating table with CEO Sarkis Izmirlian. Dr Minnis said the remarks were the latest in a litany of rogue statements and positions made or taken by members of the Christie Cabinet that appear to be at odds with the position of the government in which they are members.
"I strongly urge Dr Minnis to lead by example and begin the process by prosecuting himself over his ongoing conflict of interest," Mr Roberts added.
"To his detriment, he stubbornly refuses to admit and recognise that he as president benefitted from the more than $900,000 his company Leechez Investment received from the Public Hospital since 2005 for the lease on the Stat Care building," he further alleged, accusing Dr Minnis of violating the Public Disclosure Act.
Mr Roberts went on to question several of Dr Minnis' leadership decisions saying that in many instances he has been duplicitous and intellectually dishonest.
"When (Long Island MP) Loretta Butler-Turner physically assaulted and battered Dr Andre Rollins in the precinct of the House, Minnis, who had so much to say about leadership, integrity and accountability, did not say one word even though he knows full well that assault and battery is a criminal offence under Bahamian law. Complicity with unlawful behaviour is another brand of Minnis' style of leadership.
"When Minnis justified his dismissal of Senator Heather Hunt from the Senate by stating that he was imposing two-year limits on his Senate appointees, he pretended the new policy did not apply to Kwasi Thompson, a reported family member who sat in the Senate for three years.
"Also, Carl Bethel has been in the Senate for two years so it is interesting to see if this selective policy applies to Senator Carl Bethel. That is not leadership Dr Minnis – that is cronyism, deceitfulness, intellectual dishonesty and rank duplicity."
On the issue of the PHA contract, Dr Minnis has said he instructed the agency to end the agreement while he was minister of health. The contract continues on a month-to-month basis while the department looked for a suitable replacement.