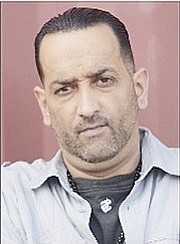 By Inigo 'Naughty' Zenicazelaya
WHOA, what a ride!
What a week it's been for me personally, an emotional rollercoaster to say the least.
The only way to properly put it in to perspective is to lay it out event-by-event in order so you can truly appreciate this sports aficionado's love of life and sport.
Get your 'Kleenex' - there are going to be some Dick Vermeil moments in this one.
Brooklyn's in the house
On Tuesday afternoon, after my youngest son's Tee-ball practice, my wife told me to make an unexpected stop on the way home, so following the old 'Happy Wife, Happy Life' theory, I stopped exactly where she directed me.
As I pulled up in the driveway of the beautiful homestead in Winton, I saw my good friend and loyal Dallas Cowboy fan Arvin Butler (Yes that Arvin Butler, the former CAFL star back in the day who was forced to hang it up, by a serious neck injury) standing in the driveway with both hands behind his back.
As we exited the vehicle, Arvin produces from behind his back - with all the flair of David Copperfield - the most beautiful 'blue nose' American bull terrier!
Instantly I knew it was the work of my beautiful wife, Jamie. She knew I needed a new canine companion since the loss of my beloved dog Big Boy. I must say this was one of her best, if not the best, surprises she's ever sprung on me.
Our new addition is named Brooklyn and she's absolutely brilliant. Highly intelligent, fearless and full of mischief. Not to mention spoilt rotten beyond measures already.
I'm very excited about our many new adventures together, not to mention watching all the sports we can manage on TV, just like her predecessor Big Boy and I did. However, I won't introduce Brooklyn to Doritos - I don't want to be 'freed up' of my all my Doritos all over again either.
I miss you 'Big Boy'.
Mamas, don't let
your babies grow
up to be Cowboys
On Thanksgiving Thursday, after disposing of my mauled and chewed-to-beyond-recognition Jordans (Brooklyn strikes) I settled in to watch my Cowboys play host to the Carolina Panthers and end their undefeated streak.
(Just let me say for the record, I was way off on that one!)
It didn't happen, but what did happen was starting QB Tony Romo is gone again for the season with a fractured clavicle, and the Cowboys' only shot of staying alive in the playoffs right along with it.
Moving forward, the best thing for the Cowboys is to lose the last five games, get a high pick (first or second) in next years NFL Draft and use it to re-tool or trade your draft picks for quality players.
Also finishing last in your division gives you a softer schedule the following season. Key ingredients in the recipe for a quick turnaround, back to contention and relevance.

In addition to all of this, Jerry Jones must spend wisely on quality back-ups at key positions in order to avoid enduring the same debacle the team did this season.
Attention 'Jerrah' - RGIII, Jonny Manziel and Ryan Mallett are all available and offer pedigree along with off-the-field issues.
As in the past, the Cowboys have a knack for bringing in troubled stars and getting them to preform to their full potential. Roll the dice: the risk is worth the reward though, especially as a back-up and or a stop-gap while the next great Cowboy QB is being groomed.
Tony Romo has proven his worth; it's immeasurable to the Cowboys. Romo's left clavicle has also proven its worth over the past three seasons, and it belongs in the 'blue light special' isle at Walmart.
Sorry Tony, it is what it is, so please, Jerry, spend the money on a quality back-up already!
Ciao 'Mamba'
and thanks for
the memories
It all all started back in 1996 as I watched a fluid, graceful, Jordanesque 17-year-old senior from Lower Merion High School in Philadelphia perform like a man amongst boys in the Mcdonald's High School All-American Game. I knew instantly Kobe Bryant was bound for greatness.
What I didn't know at the time was that it would be my pleasure to watch and cheer for him for 20 mostly successful if not championship seasons, with my beloved Los Angeles Lakers.
To make a long story short, Kobe has provided me many an opportunity to talk a mad amount of 'smack' while professing my Laker love, all while making 'Laker Haters' cringe and seethe.
On one occasion, a certain rag tag wannabe radio jock (now residing in Freeport allegedly) attempted to get ratings by going in hard on Kobe - and, indirectly, my morning radio show - and my unwavering support of the 'Mamba'.
Well, thanks to Kobe, when the smoke cleared that low basketball IQ individual was seen waddling around in a 'Chicken' suit. I mean we all thought he was a hen before with or without the suit, but thanks to Kobe nonetheless for bagging the victory and giving me bragging rights.
I could go on and on about Kobe's legacy, stats, rings and his place in the upper echelon of the games greatest, that's for another column in the future. Oh, and lastly the 81 points display against Toronto not to be forgotten.
Instead I have written a letter to Kobe.
• Naughty presents 'Mischief and Mayhem in da AM' from 6am to 10am, Monday to Friday and 'The Press Box' sports talk show on Sunday from 10am to 1pm, on KISS FM 96.1. Comments and questions to naughty@tribunemedia.net