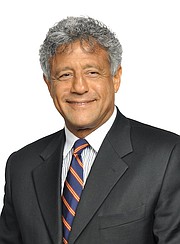 By RICARDO WELLS
Tribune Staff Reporter
rwells@tribunemedia.net
HUMAN rights advocate and attorney Fred Smith urged the Christie administration to break its silence on the "vile and dehumanising" comments made by lawyer Wayne Munroe or run the risk of the remarks being perceived as government policy.
Mr Smith, QC, told The Tribune that the time was now for senior officials within the Progressive Liberal Party (PLP) to step forward and speak out against the "insane claims that could destroy the reputation of The Bahamas".
He said: "These comments can push tensions over the edge. What is even more alarming is that he has opted to make these comments now, he is a respected attorney who is now (rumoured) to run for political office. Is it safe to say his statements are the policy views of the PLP?"
"This is absolutely insane and dangerous. With all of the chaos we have in our society he chooses to say this and stand by it. Despite an avalanche of criticism Mr Munroe has been resolute," he added.
Mr Smith questioned why Minister of Immigration and Foreign Affairs Fred Mitchell has remained quiet on the matter, adding that Mr Mitchell must use this opportunity to make public policy clear.
Mr Munroe, QC, said on Sunday that officials in this country should begin "caning" minors and flogging those over 18 who are caught entering the country illegally.
The attorney, in a recent post on Facebook, wrote that the "price is too low" for immigration offences in the Bahamas, suggesting that if illegal immigrants – particularly Haitians – believed "we tortured and killed them, they might not come".
When contacted by The Tribune on Sunday, he said that while "flogging" people may appear to be brutal, it would effectively serve as both a physical and psychological barrier for people seeking to continuously enter the country illegally.
He added: "Do we the Bahamian people keep paying to send them back, or do we decide when we're deporting you, on your exit from The Bahamas, we cane people under 18, flog people over 18, and it will be very brutal, and appear very brutal, but you wouldn't want to go back to face it again would you? And if you know that was going to happen you might not want to come to face it in the first place."
Meanwhile, Mr Smith called for "a constant voice in the nation's immigration policies". Last week he praised the courts for "not responding" to the government's policy change to ensure harsher penalties for breaches of the Immigration Act. He claimed proposed fines and punishment didn't "truly reflect the law".
Since taking office in May 2012, the Christie administration has committed itself to strengthening the country's immigration policies.