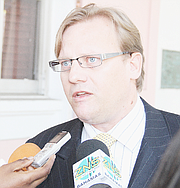 One year after receiving a "mind blowing" offer he was unable to turn down, former financial services minister Ryan Pinder yesterday confirmed his career is on the move again - this time to the Graham, Thompson & Co law firm as partner.
Mr Pinder said his new post, which he will take up on January 1, 2016, is "another great opportunity" that had "presented itself" to him, almost a year after he left the Christie Cabinet to join Deltec Bank & Trust.
Both sides yesterday presented Mr Pinder's departure for Graham, Thompson & Co as amicable, with the former minister set to act as an external advisor to Deltec upon stepping down from his post as chief legal officer and head of wealth management.
"I'm starting with Graham, Thompson as a partner on January 1, working in my areas of professional expertise," Mr Pinder told Tribune Business yesterday.
"It's another great opportunity, and certainly with a firm like Graham, Thompson with the history, respect internationally and calibre of law firm, it's tremendous."
Mr Pinder said he would be practicing in the same areas where he had spent 15 years before being appointed financial services minister in 2012 - commercial law, financial services law and transaction structuring.
"A person's profession is an evolution, and any professional takes advantage of opportunities that present themselves, especially this one," he told Tribune Business. "Everyone likes to professionally evolve, and this opportunity presented itself.
"My relationship with my former employer continues to be good. I'll be an external consultant for Deltec on key matters. It's an amicable relationship, continues to be and should be for many years to come."
Mr Pinder described Deltec as "a world-class financial institution, a world-class private bank" that was a market leader not only in the Bahamas, but the region and the world.
"I hold Deltec in the highest regard, respect their ability and their leadership, and look forward to working with them for many years to come," he added.
Mr Pinder, who spent two years as financial services minister before stepping down in late 2014 to be replaced by Hope Strachan, is also one of the two Judicial Trustees overseeing the late Sir Jack Hayward's family trust by Order of the Supreme Court,
"We have a great amount of respect for Ryan, and congratulate him on this fantastic opportunity at Graham Thompson. He is a valuable member of the Deltec team and we look forward to continuing our important collaboration with him," said David Muñoz, Deltec;'s chief executive.

Mr Pinder added in a statement: "Deltec has grown prudently over the last year, and I am proud to have been a part of this stage of the company's storied history.

"Deltec is undeniably a leader in the Bahamian financial services sector, delivering innovative thinking and quality of service in league with the largest multinational financial institutions around the world."