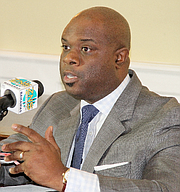 The Bahamian private sector is hoping to present the Government with a consolidated list of its National Health Insurance (NHI) concerns before Christmas, amid fears that the scheme's cost estimates "might not be the most ideal".
Edison Sumner, the Bahamas Chamber of Commerce and Employers Confederation's (BCCEC) chief executive, agreed with Tribune Business that NHI's costs - and how it will be funded - is an area "where the details may be lacking in some regards".
He was speaking after key private sector stakeholders, whose role is critical to the scheme's successful implementation, met with the Government's NHI secretariat and implementation team for three hours at the British Colonial Hilton yesterday.
While all parties agreed that the Bahamas needed to move to a Universal Health Coverage (UHC) model, they remain far apart on how to get there, and whether the proposed NHI model is the best financing mechanism.
Mr Sumner acknowledged that "the devil is in the details", and that yesterday's meeting "should have happened six months ago" to ensure that all stakeholders were presented with the same information at the same time.
Describing yesterday's meeting as "very productive", the BCCEC chief executive said that having the insurance, pharmaceutical, medical and Chamber in the same room together meant "we're not walking away with different interpretations of what's been said".
"There are still some issues to work through," Mr Sumner told Tribune Business. "We're just working on the finer details. Today was a good first step to get the information out there."
"We've agreed to put together a lost of concerns outstanding, and areas we agree with or they [the Government] agree with, and to present it to the Government so they have the private sector's concerns on the implementation of NHI. We expect that could be presented to them before the end of next week."
Many observers will argue that the private sector is late in developing a consolidated list of NHI concerns, given that the scheme's implementation is now just two weeks away.
Mr Sumner declined to detail the business community's outstanding NHI concerns to Tribune Business, saying he did not want to "pre-empt" the compiling of the list that will be sent to the Government.
However, under questioning from this newspaper, the Chamber chief executive confirmed that the Government's proposal to create a publicly-owned health insurance underwriter, Bahama Care, was "one of the points that needs to be addressed further".
The private health insurance sector has consistently argued there is no need for such an entity, and expressed concerns that it will create a 'conflict of interest' for the Government given its role as industry regulator via the Insurance Commission of the Bahamas (ICB).
Bahama Care will be competing directly with the private sector in providing NHI insurance policies to Bahamians and legal residents, and Mr Sumner agreed: "There may need to be clarity on the cost structure and mechanism for that.
"We need to get more details on how that will work, and if there will be co-existence between private insurers and the proposed public health insurance company. That's going to be something the insurance industry is looking at very, very closely."
NHI will require all employers and individuals to relinquish existing private medical insurance plans, and instead accept the coverage offered by the Government's proposed scheme.
NHI is due to kick-off with a three-month registration period beginning in January. All Bahamians and legal residents registered for the scheme will be able to select their primary care provider (doctor) of choice come April 2016, with the Government financing 100 per cent of NHI's primary care services for the first year.
These have been priced at $25 million per quarter, or $100 million for a full year, with a $6 million reserve fund also providing a further buffer for the first quarter - April - July 2016.
Mr Sumner yesterday said there was less clarity surrounding NHI's financing details after the first year, which closes just after the 2017 general election will likely have been held.
Government officials have confirmed previous Tribune Business revelations that they are eyeing a 3 per cent payroll tax, split 50/50 between employer and employee, and most likely added to National Insurance Board (NIB) contributions, to finance the roll-out of NHI's Vital Benefits Package - a move that should occur in 2017.
Sanigest Internacional, the Government's NHI consultants, previously indicated that catastrophic health coverage would be introduced between the primary care and Vital Benefits Package roll-out, but few details have been forthcoming on this.
"This is where the details may be lacking in some regards," Mr Sumner conceded to Tribune Business on NHI's financing and costs after the first year.
"Naturally, we are concerned about the impact of any new tax system coming into play so closely on the heels of VAT. These are things that have a direct impact on businesses.
"It's going to be a matter of them [the Government] determining the ultimate financing mechanism, and who's going to pay. We understand that in the first year the Government's going to carry the cost of UHC. These are details we are getting wind of, and as we get them we will be in a better to make a determination."
Many observers have expressed shock and amazement that the Government is attempting to pull off reforms of the size and complexity of NHI without having accurate data on how much the scheme will actually cost.
"For us, the introduction of any new tax system, whether it's NHI or anything else, has to be done thoughtfully and carefully, and the consequences for the economy have to be taken into account," Mr Sumner told Tribune Business.
"The [NHI] numbers are still coming in, and we all agreed that the numbers might not be the most ideal situation - from the numbers we have seen.
"There may have to be some tweaking of the numbers as shown currently. For the first year we've been told that the plan's going to cost $100 million for primary care benefits, but we're not sure what the cost is going to look like after year one."