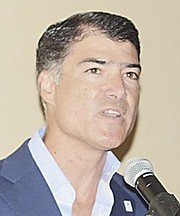 A former Baha Mar director yesterday warned that the Government will soon "have a huge white dinosaur on their hands", despite the project's secured creditor promising that a solution is being developed.
Dionisio D'Aguilar told Tribune Business that the $3.5 billion development, upon which the Bahamas had placed much of its economic growth hopes, was "turning into an enormous disaster" with no immediate resolution in sight.
His comments came as the China Export-Import Bank, which took over the project via the appointment of the Deloitte & Touche accounting firm as receivers, appeared to hit out at both himself and Baha Mar's initial developer, Sarkis Izmirlian.
Breaking a long silence, Baha Mar's $2.45 billion debt financier, via a statement to the media, said: "We, China Ex-Im Bank, noted that some people with ulterior motives have made irresponsible remarks, which have affected the actions being properly taken by our bank and the receivers."
The China Export-Import Bank did not identify the targets of yesterday's statement, but it is reasonable to think they were aimed at the outspoken Mr D'Aguilar and Mr Izmirlian, both of whom have continued to criticise the actions of the Government and the Chinese in bringing Baha Mar to its current state.
And Mr Izmirlian, and his BMD Holdings vehicle, wasted no time in responding to the China Export-Import Bank, yesterday reaffirming that their proposal to complete and open Baha Mar remained on the table for discussion.
"With respect to Baha Mar's developer, nothing has changed," BMD Holdings said in a statement. "The developer has made proposals to China Ex-Im Bank and the other parties which would enable Baha Mar to be completed properly and opened successfully.
"We continue to be willing to work with all parties to achieve these goals as expeditiously as possible, and look forward to hearing back from the bank."
Mr D'Aguilar, meanwhile, again suggested that the Government's strategy of aligning with the Chinese to fight Mr Izmirlian's preferred restructuring route, Chapter 11 bankruptcy protection, in favour of a provisional liquidation process through the Bahamian courts, had backfired.
Arguing that it had yet to result in Baha Mar's swift completion and opening, Mr D'Aguilar said of the stalled Cable Beach project: "It's turning into an enormous disaster.
"Whatever the Government promised by bringing the legal action to Nassau has not happened, and they're left with this huge white dinosaur on their hands."
Mr D'Aguilar argued that the Christie administration had likely listened too closely to China Construction America (CCA), Baha Mar's contractor, and promises that it would quickly resume construction and complete the project if Mr Izmirlian was removed.
A construction resumption has yet to happen, with the China Export-Import Bank giving every sign that it will not invest a further cent into Baha Mar, and is only interested in recovering its $2.45 billion and 'being made whole'.
"The bank seems to be very level-headed, cautious and not wanting to throw good money after bad," Mr D'Aguilar told Tribune Business.
Prime Minister Perry Christie has frequently promised that "good news" on Baha Mar is imminent but, compared to these expectations, yesterday's China Export-Import Bank statement can only be described as a 'damp squib' - both from the perspective of the Government and the Bahamian people.
Several observers privately suggested to Tribune Business that its statement was a 'non-news' press release, and interpreted it to mean that a deal to secure Baha Mar's future completion and opening is still some distance away.
"We hereby solemnly state that China Ex-Im Bank has been actively working with relevant stakeholders to seek proper resolution of the issues that the project is facing, and has been maintaining close communication and contact with the Government of the Bahamas," the bank's statement said.
"Currently, there is a preliminary plan concerning the future arrangements and this will be launched as soon as practicable. The bank is working with the Government to prepare for the Convention Centre to be used for the IDB event in early April 2016."
The statement continued: "In addition, our bank has been in contact with a number of potential investors and they have expressed initial interest in the project.
"The bank will continue to communicate with parties who have expressed initial interest in the project, and other parties who could potentially be interested in the project, as it seeks to formulate a comprehensive solution as soon as possible."
The China Export-Import Bank's comments indicate that any potential deal has yet to move beyond the 'preliminary interest' stage, and it would likely have given notice - in accordance with the Prime Minister's wishes - if an agreement was imminent.
Meanwhile, Tribune Business sources - including some ex-Baha Mar employees - said yesterday that it would not require a huge expenditure to ready the convention centre for Inter-American Development Bank (IDB) Board of Governors meeting, as the facility was already largely complete.
However, this newspaper understands that it is currently being used as a warehouse to house all the construction materials, furniture and fixtures that had to be removed from containers and placed into new storage when Baha Mar filed for Chapter 11.
While all these materials will have to be taken out and re-stored, the biggest potential problem for the IDB meeting is that the Grand Hyatt will not be open. As a result, attendees will likely have to be bussed to the convention centre from the Melia or walk across deserted parking lots.
Meanwhile, Tribune Business sources familiar with the Baha Mar situation said last week's resignation of Tom Dunlap, the project's president, had sparked further departures among the remaining 350 staff.
They added that employs were also having to deploy numerous buckets to catch water leaking into the unfinished Baha Mar resorts as a result of recent heavy rain.
Raymond Winder, Deloitte & Touche (Bahamas) managing partner, said he was on another line and unable to talk when contacted by Tribune Business yesterday.
A Baha Mar solution may well be a long and complex process. The China Export-Import Bank's desire to recover 100 per cent of its loan will not fit with Western investor groups, who will want it to 'take a hair cut' and be seeking a cut-price deal to acquire the project.
This, in turn, makes a Chinese investor group the likeliest Baha Mar purchaser, with the prospect that they will be repaid with favours and concessionary loans from the Beijing government and China Export-Import Bank, in return for making the latter whole.
This scenario does not make for the quick construction completion and opening desired by Mr Christie and his Government, and the window for doing so prior to a likely May 2017 general election is closing rapidly.
It is possible the Prime Minister wants to go to the country even sooner, but he cannot do so without Baha Mar.
One Tribune Business contact, speaking on condition of anonymity, suggested that Beijing's anti-corruption drive might scare off potential Chinese buyers, too.
They added that the Prime Minister had been "hanging his hat" on a potential offer from Fosun, the privately-owned Chinese conglomerate that controls the Club Med resort chain, the Cirque du Soleil entertainment firm and a host of global property holdings.
However, the four-day disappearance of its chairman, Guo Guangchang, last week to assist an investigation by the Chinese authorities may have dampened enthusiasm for Baha Mar.
The source also pointed out that, as the price for rescuing Baha Mar, the Chinese may use their leverage to ensure all goods and supplies come from China - not local vendors in the Bahamas. And, they suggested, there may be more work permits for Chinese employees.