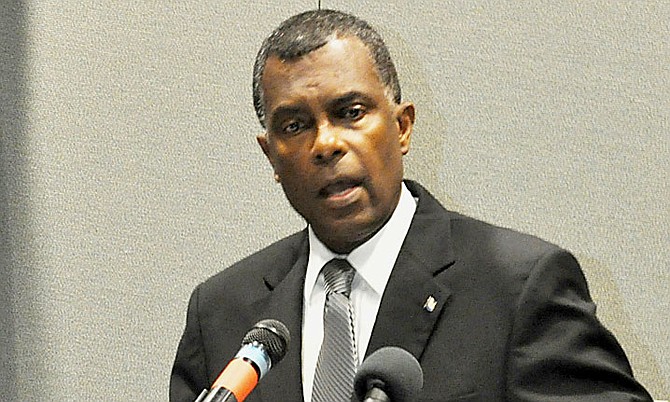 By NICO SCAVELLA
Tribune Staff Reporter
nscavella@tribunemedia.net
FOREIGN Affairs and Immigration Minister Fred Mitchell yesterday labelled a recent Supreme Court judge's ruling that Canadian Bruno Rufa was unlawfully deported from The Bahamas as a "challenge to the authority of immigration".
In a statement yesterday, Mr Mitchell disagreed with the October 29 ruling of Justice Petra Hanna Weekes, insisting that the
Department of Immigration has an "unfettered right to determine who is landed and is excluded from The Bahamas, subject to law."
He said in the face of the judge's ruling, and if the reasons behind her ruling apply "beyond the instant case," his ministry is now "forced to consider our options".
The Grand Bahama Human Rights Association (GBHRA) meanwhile, yesterday applauded Justice Hanna Weekes' ruling, calling it a "tremendous victory" for human rights in The Bahamas.
The group subsequently called on the government to uphold the rule of law and "cease embarrassing The Bahamas by their arbitrary and dictatorial approach to immigration matters".
Mr Rufa, a condominium owner at the Coral Beach Hotel, was initially arrested on January 30 by immigration officers and appeared before Magistrate Debbye Ferguson on February 2, when he was charged with allegedly engaging in gainful occupation without a work permit.
He was released on $2,500 cash bail and the proceedings adjourned.
Following his appearance in court on February 18, Mr Rufa was arrested a second time by immigration officers who told the Magistrate's Court that he had been deemed an undesirable by the director of immigration and was to be deported as soon as possible.
Mr Rufa was eventually allowed to return to Grand Bahama following discussions between his attorneys and the Immigration Department, which resulted in an agreement on a consent order between the two parties.
Mr Rufa is president of the board of directors for Coral Beach Management Company Ltd and has been the owner of a condo for 10 years.
In her written ruling, the judge found that the actions taken by immigration authorities concerning Mr Rufa's second arrest and detention "amounted to a breach of the rules of natural justice" and were in violation of the law.
Her ruling was given in the judicial review brought by Mr Rufa against the minister of immigration, the director of immigration and the attorney general over the decision.
Yesterday, however, Mr Mitchell said in response: "…My preliminary view is that in the face of such a wide ranging judgment, with which I respectfully disagree, and if it applies beyond the instant case, we are forced to consider our options where the country and the public interest demands the immediate removal of someone from the country where in the opinion of the Department of Immigration, the continued presence of that individual may be inconsistent with the peace and good order of the country.
"...The basic premise seems to me must be upheld that the Department of Immigration has in the first instance an unfettered right to determine who is landed and is excluded from the Bahamas, subject to law."
However, the GBHRA said yesterday that Justice Hanna Weekes' ruling has proven Mr Mitchell "resoundingly wrong," and said the Fox Hill MP should amend his department's "unlawful practices" and bring them "in line with what the courts have repeatedly advised."
"Sewell, Justilien, Rufa - how many times must the arguments of human rights defenders be vindicated in the courts before the government will take heed and act in a lawful manner in dealing with immigration matters?"
"As with earlier rulings, the Rufa matter is being closely watched by the international community and global networks of human rights defenders," the group added. "We call on the government to uphold the rule of law and cease embarrassing the Bahamas by their arbitrary and dictatorial approach to immigration matters. All we ask is that (Mr Mitchell) and his colleagues obey the law."