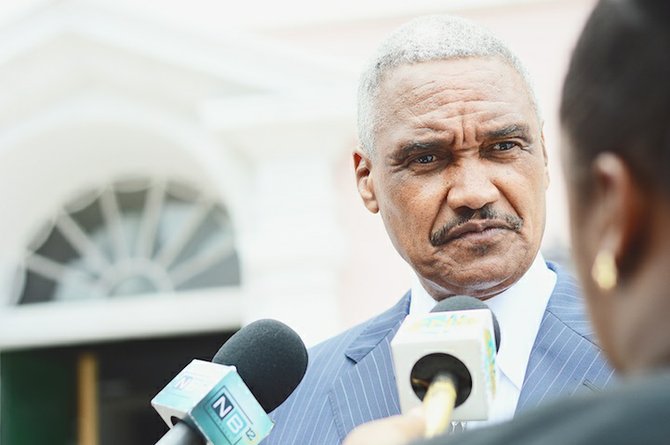 By RICARDO WELLS
Tribune Staff Reporter
rwells@tribunemedia.net
EXECUTIVE Chairman of the Water and Sewerage Corporation (WSC) Leslie Miller yesterday said he expects the government to announce "in short order" the benefits its Water Supply Improvement Project will bring to communities suffering through "the worst of the worst" in terms of water supply.
This week it was revealed the government had secured a $28.33m loan from the Caribbean Development Bank (CDB) for water improvement.
Mr Miller said the Pinewood Gardens and Bozine Town communities in New Providence, as well as areas in South Andros, will see major changes to the quality of their water supplies through the project.
A main thrust of the project will be getting residents of Pinewood Gardens - who rely on low quality private well systems - connected to the public water supply, he said.

According to Mr Miller, the government intends to sign detailed agreements to ensure that a strategic water system is established in South Andros and residents in Bozine Town and Pinewood Gardens are connected to public water systems due to concerns over the "integrity of their well supplies".
"The Prime Minister has made this an important part of what we are doing," he said.
"When you look at it, when you really sit back and understand the process of developments in this country and see the challenges of these communities it is almost criminal that they are faced with these issues."
When asked to clarify his comments, Mr Miller contended that no government has worked to address the lack of a dependable water supply from North Andros to the island's southern region.
"It's almost criminal for us to have used North Andros as a faucet for Nassau and never look back and ensure that quality fresh water was making its way to South Andros. That is truly downright criminal."
He said trillions of gallons of water have been barged to New Providence over the last two decades while residents living in South Andros are left with substandard water quality.
"That's embarrassing; those people deserve a quality service," he added.
Addressing the issues with the water supply in the Pinewood Gardens community Mr Miller said that private wells in the community have been compromised and rendered contaminated by health officials.
He noted that research done in Pinewood Gardens, a community prone to heavy flooding, has revealed that many of the homes that depend exclusively on their well systems are exposed to low quality water.
"That's why we are focused on Pinewood now. Pinewood and Bozine Town are two areas we want to get into and assist those residents that can't afford to get off well water and on to city water. We are doing this for those people."
One senior source in the Department of Environmental Health Services with knowledge of the matter told The Tribune that studies carried out over the last year have revealed that well water in those two communities have drawn "red flags".
That source added: "The residents are well aware of the issues, they are working with officials to address this matter. This isn't a situation where people are lost or confused because there has been constant communication on this matter from its onset."
According to a statement released by the CDB on Monday, the Water Supply Project will undertake a range of activities, including acquiring approximately 30 acres of land for sitting water production facilities; upgrading supply and distribution systems by replacing existing mains and installing new mains and ancillary equipment; constructing storage tanks and pump stations, and providing a tanker truck for transporting water by road in San Salvador.
Additionally, Mr Miller suggested that a new, modern sewer substation being developed in Yellow Elder is expected to be completed as a part of this development.