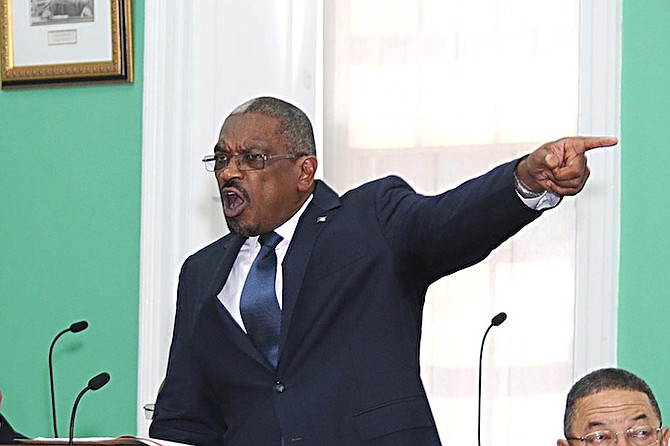 By RASHAD ROLLE
Tribune Staff Reporter
rrolle@tribunemedia.net
FREE National Movement Leader Dr Hubert Minnis reiterated yesterday that a National Health Insurance scheme that does not provide catastrophic care will not help Bahamians in the way they need it most.
The Christie administration will roll out a primary healthcare package in April and a vital healthcare benefits package sometime within the next year.
While the details of these plans have not yet been fully explained, the particulars of how the government will address the catastrophic care provision are even less clear.
The government has said that there will be a catastrophic fund for people who are particularly sick and need a greater level of care.
Speaking to The Tribune, Dr Minnis said yesterday: "They're looking at it in terms of phases, but one of the things they're missing is that if you truly want to look after your population and decrease the economic insult people experience, then you would know that poor health is one of the things that causes poverty, that causes the middle class to become bankrupt and this happens because of catastrophic illnesses.
"If you want to protect your society, especially the middle class, you should review and make a determination about which diseases are having the greatest impact and causing the most problems and that grouping should be covered under NHI. That should be the priority. When you talk about cookouts, primary care won't stop that."
Dr Minnis' comments came during a wide-ranging interview with The Tribune in which he also highlighted deficient areas in the country's healthcare system which he says must be improved before NHI could come on stream.
"You must ensure that the infrastructure is in place," he said. "If not, then you will pile it on a defective system. It will be a waste of money. We must ensure that the healthcare system is upgraded, that the staff is quality. We must ensure that we have proper medication and we have the supply network to obtain the medication and that we have the technology available. When you are talking about non-discriminatory services – we want medical care in Abaco, Eleuthera, etc, that is similar to New Providence. So we must have healthcare integration if we want to contain the cost and cut down on wastage. We must have health integration that allows systems in those islands to speak to each other. We must have electronic medical records so that if you are seen in Abaco and you come here to New Providence for any reason, they could obtain your records right away. I notice they are saying now that this is what will be done in phase one. But that has been the concentration of the FNM, making sure we have those things in place."
Dr Minnis said the construction of the Critical Care Block at Princess Margaret Hospital is an indication of the steps the FNM was taking to improve the health system.

"We realised there were inadequate facilities in terms of the Intensive Care Unit, bed space and therefore we built the Critical Care Block with extra theatres because there was a cry by the physicians, they came home and they could not utilise their skills because these theatres were built a very long time ago when the population was small. We needed adequate space so that these new doctors coming back home would be able to practice their training and therefore we built the Critical Care Block and expanded the number of theatres to six. We also recognise that the disease process is changing and we have to prepare for that. We recognised that people were living longer and were experiencing knee problems, hip problems, requiring hip replacements, joint replacements and therefore we ensured they have facilities to do these things and so doctors coming back could practice their skills."