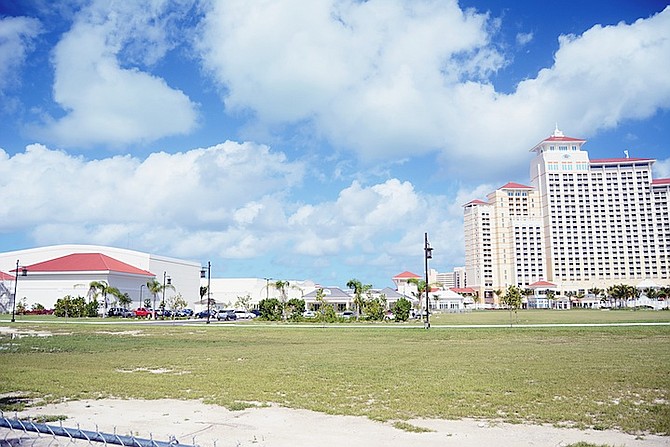 By RASHAD ROLLE
Tribune Staff Reporter
rrolle@tribunemedia.net
PRIME Minister Perry Christie said he expects Baha Mar to be completed early next year, although he did not give a specific date for the restart of construction at the resort or when the property might open.
Speaking to reporters during last week's Boxing Day Junkanoo Parade, Mr Christie said he spent the holidays working on Baha Mar matters with the upcoming implementation of National Health Insurance (NHI).
"About two days ago I wrote a very strong letter to the president of the China Export Import Bank setting out the fact that a very significant number of world-class operators have gotten involved and made applications for the property to assist to put money into the property to bring it to a conclusion and an opening," he said. "These are big American companies. We have seen some of China's biggest companies themselves and they have indicated a preparedness to buy in to the development."
Reiterating comments he told the press weeks ago, he said: "So for the Bahamas we have a situation where the construction company has taken the position that it does not want to start construction without paying their subcontractors and that includes the Bahamian subcontractors. And I've argued that I'm not prepared to accept that those contractors will be paid less than a dollar for a dollar for the work performed. So I'm anticipating that 2016, very early in 2016 that we're going to have a major move for Baha Mar.
"Already we have a commitment to finish the convention centre to ensure that the Inter-American Development Bank (IDB) conference that will be held here in March will be ready together with the Melia facilities so therefore I'm content with the fact that the receivers and the bank have agreed for a partial mobilisation of construction and that in itself will suggest to me that once they partially mobilise, they will expand themselves to completing it early in the New Year and so again, you'll hear more about it as we progressed into the year."
Despite his statements, Mr Christie suffers a credibility problem with some Bahamians, having said numerous times over the last year that the conflict at Baha Mar was close to being resolved.
Getting Baha Mar open has particular importance following last week's announcement from the Department of Statistics that unemployment in the country had risen 2.8 per cent to 14.8 per cent.
Last week, the Free National Movement (FNM) released a statement saying Bahamians will have a "bleak Christmas" because Mr Christie "sells fantasies and promise of relief on the horizon."
Baha Mar filed for bankruptcy on June 29 in the United States, however the cases for the resort's Bahamian companies were later thrown out of court.
In October, the Supreme Court approved the EXIM Bank's request to have the property placed into receivership.