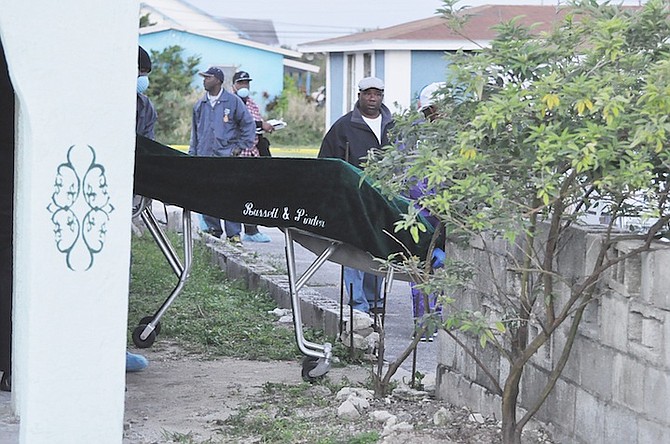 By DENISE MAYCOCK
Tribune Freeport Reporter
dmaycock@tribunemedia.net
CHARGES are expected to be filed in court early this week in connection with the murder of a beloved, retired school teacher in Grand Bahama over the weekend.

Former educator Sundiata Omowale Karamo, 71, was stabbed to death at his residence in Hawksbill early Saturday morning following a domestic dispute between family members. His son-in-law, a 30-year-old American, is helping police with their investigation.
This is the island's third murder for 2015.
"Our investigations suggest that this matter should be wrapped up shortly, and we expect to file formal charges in the matter," Senior Assistant Commissioner of Police Emrick Seymour said.



Sometime around 5am on Saturday, police received a call of a domestic dispute at Bimini Place in Hawksbill. On arrival officers discovered the lifeless body of a elderly black man on the floor of a bedroom. He had been fatally stabbed.
News of Mr Karamo's death has shocked and saddened many persons in Grand Bahama, where he taught for many years in the public school system.
He was a teacher at the old Hawksbill High, and St George's High School.
Cecil Thompson, former director at the Ministry of Education and undersecretary in the Ministry of Grand Bahama, was shocked to learn of the tragic news.

He was the principal at Hawksbill High when Mr Karamo was a teacher.

"He was a quiet gentlemen," recalled Mr Thompson. "He lived in Hawksbill when I was the principal at Hawksbill High, and I remember one of the daughters very well, Afrika Karamo-Miller – she is a teacher today, a senior mistress at Jack Hayward High."
According to police sources, a husband and wife were at the home in Hawksbill having an argument shortly before Mr Karamo was stabbed. Many residents in Hawksbill gathered outside the home after the incident, some persons were visibly distraught.

Mr Thompson said Mr Karamo was originally from Detroit.

"I found him very quiet and unassuming, and I was just shocked when I was told on Saturday morning about his tragic murder. I could not see something like that happening to such a nice person," he said.
Quinton La Roda, executive vice president of the Bahamas Union of Teachers, extended condolences on behalf of the BUT to the Karamo family. He said it is a "blow" to the union, teachers, and students.
"I am still trying to recover from the shock of it," he said.
Mr La Roda said the victim's daughter, Afrika, has been a shop steward in the union.

"I am not aware of the details, but… I think from what I learned about what happened, I consider him a hero; anyone who passes trying to defend and protect the people they love, I think is as heroic as it gets."
"It is totally sad and shocking and our thoughts and prayers are with his family," he said.

Condolences have also been pouring in to the victim's family on Facebook.
Users described the former teacher as a "down to earth", "humble" person with a good sense of humour.