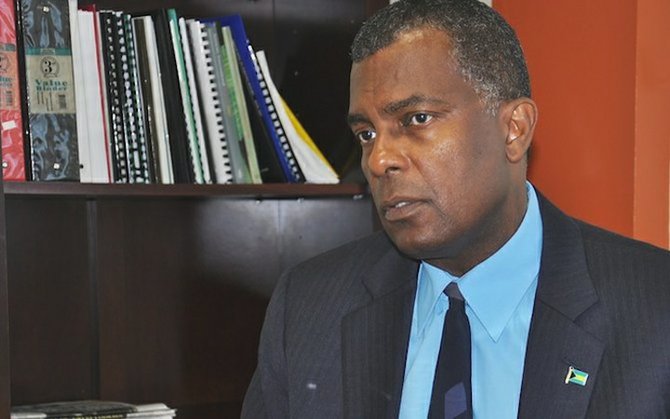 Reader poll
199 total votes.
By AVA TURNQUEST
Tribune Chief Reporter
aturnquest@tribunemedia.net
IMMIGRATION MINISTER Frederick Mitchell accused the Grand Bahamas Human Rights Association of "rank hypocrisy" over its stance against the immigration policy and personal campaign against him.
Mr Mitchell underscored the importance of establishing a public affairs unit within the Department of Immigration to assist with the execution and understanding of policy.
"What gets me however," he said, "is the rank hypocrisy of it all. The Leader of the Grand Bahama Human Rights Association engaging in this political subterfuge while coming like Nicodemus in the night begging for work permits. Or his Chief Lieutenant one Joe Darville, a former school master, denouncing the policy in the open but in a closed meeting telling the Haitian pastors that they must tell their people to leave The Bahamas. No more or less," he said.
His comments were made at the annual Bahamas Week Celebrations at the University of West Indies Cave Hill campus in Barbados on Tuesday.
He warned students to be critical of information written in newspapers or asserted by activists, some of whom he alleged were engaged in public relations schemes to attack him personally and make every illegal migrant a victim.
"They have used defamatory statements like 'ethnic cleansing'," he said. "They have said that we operate Auschwitz in The Bahamas. They have accused the Department of 'institutional terrorism'. No objective agency has called them out on these mischaracterisations. Not only is there no evidence to support it. The fact is that the assertions are coming from people of questionable mental stability. Yet the assertions continue to come unabated and unquestioned."
Mr Mitchell defended the government's plans to require all non-Bahamian students, even those born here to immigrant parents, to have a student permit for the fall semester or a passport with a residency stamp.
He said last week's announcement did not make a distinction between adults and children, and every country in the hemisphere had similar requirements for non-nationals. "The question of who gets into school and who does not is a matter for the Ministry of Education," he said. "However, the law is clear that every non-national has to have a residency permit to be in The Bahamas."